Freshman Rapper Composes, Remixes Music
Hang on for a minute...we're trying to find some more stories you might like.
He sits in a room with a YouTube video open on his laptop, a few sheets of paper and a pencil. He presses play and lets the music fill the air, forming words in his mind that would later become the lyrics for his first rap song.
Freshman Kamal-Sayeed Shabazz was in the sixth grade when he started writing lyrics. Three years later, he released his first EP on SoundCloud titled "Remixes&More," under the username kaotik_ind.
"I'm always writing," Shabazz said. "There's not really much I want to do except for making and sharing my music with other people."
Shabazz started making music by listening to various genres and covering and remixing songs by his favorite artists. He draws inspiration from musicians such as Michael Jackson and Eminem.
"My dad used to do music, so I thought I could do it too," Shabazz said. "I told my dad, 'Dad, I write poetry and stuff, but I don't know if I can rap.' I just did one day and kept [rapping]. I didn't know what I was doing, but people liked it, so I ended up producing [my music]."
Shabazz writes all of the lyrics for his songs and makes his own beats using a keyboard and music-producing software called FL Studio.
"I'll play a beat, freestyle in my head and write that down," Shabazz said. "I feel like when you try super hard to come up with fancy ways to say things, it messes with your mind."
Shabazz's most popular song on SoundCloud is titled "They Used To," and it was produced by Majestic Records.
"You can hear that Kamal came from 'nothing,'" freshman Austin Cole said. "His music is spreading really quickly, and it is pretty cool to know someone who makes music no one else has heard."
Shabazz plans to release his first full album in February 2017.
"Kamal is proof that writing doesn't need to be a laborious task," English teacher Jenna Lynch said. "It is inspiring and motivating to see young people pursuing their passions. It takes a lot of courage to put your art out to the world, so I think it is incredible that Kamal is sharing his passion with the world."

About the Writer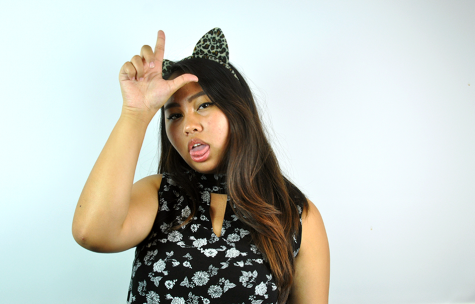 Kristen Conklin, News Co-Editor-in-Chief
What's up? My name is Kriss Conklin and I'm a senior. This is my third year on staff. I'm extremely excited to be the News Co-Editor-in-Chief and work alongside the largest staff in Legacy Press history. When I'm not pacing the halls with my clipboard and recorder, I'm either at Taekwondo practice or napping comfortably in my Queen-sized bed. I love drawing, singing off-key, and watching all things horror. After graduation, I hope to find myself at Northwestern University, and pursuing the career of my dreams. (Magazine journalist!) Thank you for checking out my work.