Junior Backstroker Breaks Club Team Record
Hang on for a minute...we're trying to find some more stories you might like.
Tension builds as she rests on the diving board, ready to jump into the water at the sound of the referee's starter pistol. There is no sign of nervousness in her face, yet the crowd is on the edge of their seats. A shot is fired and the swimmers dive into the water.
Junior Lauren Carag earned her fastest high school time, 56.24 seconds, at the State Championship swim meet at University of Texas at Austin on Feb. 19.
"I got started in swimming because my brother was swimming and I [did] everything that he did," Carag said. "So far, I have competed in the state meet twice with my high school team, and I have competed in a few national meets with my club team."
In 2015, Carag was part of the 200 medley relay team and broke the record as a backstroker.
"At state, I got seventh place my sophomore year and sixth place this year," Carag said. "I also hold [the] team record for my club team in the 100 [backstroke] at 55.64."
To prepare for her competitions, Carag trains 23-24 hours a week by constantly swimming and lifting weights in the weightroom.
"My role model is Casey Clark," Carag said. "Casey was a swimmer on my club team who graduated years ago, and she's my role model because even though she got injured just like me, she was still able to succeed at swimming."
Carag enjoys swimming in home meets during the swim season because she believes everyone is very pumped and hyper during these meets.
"Before a meet, I usually like to visualize my race," Carag said. "I also think about the time I want to go before I race."
Senior Sydney Ortiz first met Lauren through club swimming and they later became close friends through a team trip to Hawaii.
"One of my fondest memories with Lauren is when she took me to state with her in order to be her roommate," Ortiz said. "Everyone was just having a lot of fun and it was really cool to watch your teammates' hard work pay off. Over the years, we have gotten to know each other pretty well because we train at both KC and club swimming together."
Lauren is an amazing athlete who never backs down from a challenge, according to swim coach Jim Sharp.
"Not only does she swim for Klein Collins, but also for a USA swim team, Premier Aquatics Club of Klein (PACK)," Sharp said. "She is swimming nearly twice a day, six days a week."
According to Ortiz, one of the things that most people do not know about Carag is that she has had serious knee problems since the seventh grade.
"Lauren's work ethic is crazy," Ortiz said. "Over the years, her knee hasn't gotten better but she hasn't let it stop her. She has always trained really hard. I have never seen Lauren back down from anything. She is such a motivated swimmer, and her training helps not only improve herself, but her teammates."
Three words that Sharp used to describe Carag are: dedicated, disciplined and fun.
"I've known Lauren since she swam for me on the Terranova West Tidal Waves in 2004 and 2005," Sharp said. "Even then she was a talented swimmer in the six and under age group. She completes her practices, swims each set hard and pushes herself to reach her goals in the weight room and the pool."

About the Contributors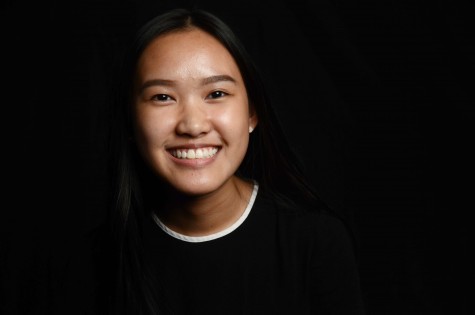 Victoria David, Editor-in-Chief
Victoria thrives on any form of creation. She especially enjoys watercolor painting and doodling. She is currently obsessed with thrifting, Revlon lipsticks...