Review: MOD Pizza
Hang on for a minute...we're trying to find some more stories you might like.
THE SCENE
On an early Friday evening, the doors of MOD Pizza are overflowing with hungry customers eager to experience a pizza restaurant like no other. Each throng of customers is greeted by MOD employees (called Mod Squaders) who shout, "Welcome to MOD!" with a smile on their faces. As I made my way up to the counter, various rock and alternative songs played through overhead speakers throughout the restaurant. To my left, a giant menu declared cleverly-named pizza flavors in every variety imaginable. Of course, there is always the option of ordering a personalized pizza, and a MOD Squader is at the counter to guide each customer ingredient by ingredient to create the perfect pizza suited to their tastes.
THE SERVICE
The worst thing about going to a new restaurant is being faced with snappy, irritable employees who are no help at all to unfamiliar diners, but luckily at MOD Pizza, that was not the case. The customer service at MOD was pleasant and refreshing. The MOD Squaders were patient with new customers like myself as I contemplated what flavor pizza would satisfy me most that night, and overall the staff were just really friendly and easy to talk to. The most exciting part about ordering a personal pizza from MOD was being able to watch the entire pizza-making process from the other side of the counter. Through panes of glass, I watched as my Tristan pizza was brought to life by the expert hands of a MOD Squader.
THE FOOD
The Tristan was the closest thing to a veggie pizza on the MOD menu, and it was anything but disappointing. Pesto, asiago cheese and mozzarella, roasted red peppers and mushrooms were carefully sprinkled atop a dough crust then placed in a large gas-fired oven to cook in just minutes. The asiago cheese and mozzarella left a gooey bridge between pizza slices as I pulled them apart, which was really satisfying to see and eat. The pizza crust was well-baked: crunchy enough to be satisfying yet not crunchy enough to match the crisp consistency of potato chips. Sadly, only so many pizzas can go in one oven before each pizza is unevenly baked. The only thing I did not enjoy about the Tristan pizza was that the mushrooms were not baked all the way. The mushrooms on my pizza were not as fully cooked as I would have hoped for, but other than the semi-raw mushrooms, I know I'll be ordering another Tristan the next time I visit MOD.
SIDES
MOD Pizza offers Cinnamon or Garlic Strips to pair with an order of pizza or salad. These sides come with a dipping sauce of the customer's choice. The conception of MOD's Cinnamon Strips begins with pre-made, rolled-out dough sprinkled with cinnamon and sugar drizzled in a glaze of the customer's choice. (MOD offers cinnamon, chocolate and strawberry glazes. I chose the cinnamon glaze.) Then, the dough is placed in the oven and baked to crisp, fluffy perfection. Each order of glazed Cinnamon Strips comes with a creamy cinnamon dip. The cinnamon glaze and dip went well with and enhanced the sweetness-factor of the Cinnamon Strips, making each memorable bite pleasant and savory.
Similar to the way the Cinnamon Strips are made, MOD's Garlic Strips also begin with pre-made, rolled-out dough, but instead the strips are drizzled in garlic oil and covered in parmesan cheese and chopped rosemary sprigs. One bite of the Garlic Strips left my taste buds dried out and overwhelmed with garlic and undertones of parmesan. Somehow, the Garlic Strips managed to be too crunchy and resembled eating garlic and cheese off a cracker. (Not good.) The flavorings of the Garlic Strips were unbalanced, and I was left wanting to taste more than was offered on my plate. The marinara sauce provided with the strips weakened the overwhelming flavor of garlic and parmesan, but I was dissatisfied with the way the tastes of the marinara and the strips combined. MOD's Garlic Strips ended up being my least favorite menu item of the night.
DESSERT
MOD Pizza offers only one dessert: the No-Name Cake. MOD's  No-Name Cakes are a curious, cylindrical dessert wrapped in foil and displayed on a cake plate near the cash register. At first, I was suspicious of the No-Name Cake. However, once I unwrapped that little cylinder of goodness, I was pleasantly surprised to find a chocolate cake encased in a chocolate shell. At first bite, MOD's No-Name Cake reminded me of the Moon Pies that Space Center Houston sells in its cafeteria. The cake was spongy and moist, and the chocolate shell only added to the flavorful overload of sweet chocolate on my tongue. The star of the No-Name Cake, though, was not the chocolate cake and shell, but the marshmallow fluff-like filling inside that complemented its counterparts. Located in the center of the No-Name Cake, the faintly vanilla-flavored cream balanced the almost overly-sweet taste of chocolate-on-chocolate and combined the flavors into a satisfying mouthful of fluffy vanilla and rich chocolate. My only complaint about the No-Name Cake is the uneven ratio of filling to chocolate cake-shell. The filling goes well with the chocolate elements, but there needs to be more of the vanilla-like flavor to complement the cake-shell. MOD's quirky No-Name Cake has definitely become an unforgettable treat for me.
FINAL THOUGHTS
My first trip to MOD Pizza was quite an experience. From the savory Tristan pizza, decadent Cinnamon Strips and No-Name Cake, to the subpar Garlic Strips, I enjoyed almost every food MOD had to offer. Overall, dining in at MOD Pizza emitted a comfortable, relaxed atmosphere perfect for casual dinners, group hangouts or impromptu snack-and-study sessions. Few restaurants often play rock and alternative music, but being able to experience delicious food and my favorite kind of music at the same time was my favorite part of eating at MOD. I would definitely consider myself a satisfied customer, and I plan on returning to MOD Pizza for more pleasant experiences of friendly customer service, appetizing food and good music.
About the Contributor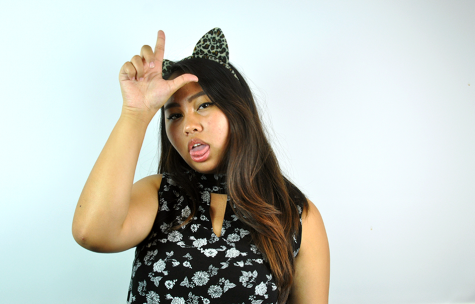 Kristen Conklin, News Editor-in-Chief
What's up? My name is Kriss Conklin and I'm a senior. This is my third year on staff. I'm extremely excited to be the News Editor-in-Chief and work alongside...