Klein Collins Band Hosts Third Annual Mattress Sale
The Klein Collins Band will host its third annual mattress sale Feb. 24 from 10 a.m. to 5 p.m in the commons.
"Our goal is to raise $10,000," band director Christopher Rugila said. "There will be [brands such as] Tranquility, Wellsville, and Simmons Beautyrest, [and] because of the unique relationship our mattress company has with the manufacturers, we are able to sell the mattresses for significantly less than the normal mattress retailer can. Customers can save hundreds and even thousands of dollars off retail pricing. The mattress company handles all of the sale responsibilities including setup, tear down, sales, finances, and delivery. All we have to do is get as many people to the sale as we can."
According to sophomore Noel Dionisio, this sale is significant to the band in numerous ways.
"When it comes to fundraisers and the band, it's important for the students to raise all the money to pay for band equipment, private lesson teachers, rental trucks, et cetera, so that way the [band] parents aren't having to pay massive amounts every year for their kid to be in band," Dionisio said. "The reason why this mattress sale is [our biggest fundraiser] is because it provides huge funds while selling very few things. For example, if the band sells eight mattresses, it gains about 1000. For a developing school such as Klein Collins that has had a historic year, it's important we make record numbers in this mattress sale to improve."
Dionisio also adds that these funds can go towards something more student-oriented that benefit the band in other ways.
"One of the main rewards that the company supporting this mattress sale is giving is that for every five mattresses sold due to a certain student, [he or she] earns a fully paid semester of private lessons– double that number, and the reward becomes a whole year," Dionisio said. "Then, every 40 mattresses the band sells as a whole, a random student that sold at least one mattress will be drawn to get a semester of private lessons. Why is the reward private lessons you might ask? The band is trying to go in a new direction and become very competitive, [so] it's integral for about 80% of the players to be taking private lessons. That's a statistic seen in most– if not all– the top bands in America, like the Woodlands Highschool of Vandegrift Highschool. It improves the skill of the band program as a whole when most of the student players are taking private lessons."
According to senior Jeremy Wood, a mattress sale can be more beneficial to the band as opposed to a typical candy fundraiser.
"The mattress fundraiser is a guiltless fundraiser when compared to boxes of candy because they are items that are actually purchased for use, and not as a short one-time enjoyment that isn't always necessary," Wood said. "The size of the sale also allows for the general public to support our program and purchase large items that are used every day."
Every purchase made at this year's fundraiser will benefit the band.
"Just buying one mattress might not seem like a lot, but if more and more people just buy one, [they] add up becoming 10, then 50, then 100, and so on," Dionisio said. "If you have time on Feb. 24, and you need a mattress now or in the near future, please stop by Klein Collins from 10 .a.m. to 5 p.m."
About the Writer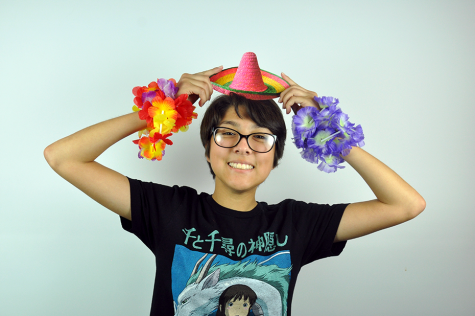 Elena Mexicano, Staffer
Heya! Soy Elena, and I'm a junior making my way through my second year as a staffer. In my down time, I'm a classic gamer who can often be found at the...