Nunn Interview
Hang on for a minute...we're trying to find some more stories you might like.
Here at Klein Collins High school, we have many different types of journalism classes. For all of these classes, the teacher is the wonderfully creative, Mrs. Ashley Nunn. Mrs. Nunn leads a unique life, different to those of other typical high school teachers. Even though her life is unlike others, she is extremely happy with the life she has created for herself.
As a child, Mrs. Nunn involved herself in a multitude of different activities."First, I had to choose what type of activity I wanted to do, because I ran track and I played basketball and I swam…I had to figure out if I wanted to do sports or dance." said Mrs. Nunn. She always kept busy and enjoyed the involvement. She also reveals to us that in her youth, she maintained very fit because she did all types of sports. Even the ones in water!
Her father modeled an encouraging figure that inspired her to do all the sports and activities she involved herself in when she attended grade school. "My dad,100% [was who I looked up to when I was younger], [he] was a very positive person, [he] always told me that if you make a mistake, you just move on, pick yourself up, and try and try again," said Mrs. Nunn. When she spoke of her father, her love and admiration filled tone, revealed an amazing relationship that the two of them have.
Mrs. Nunn's high school journalism instructor, Mrs. Alexander, inspired Mrs. Nunn to become a teacher. "My journalism teacher, Sheila Alexander, had no fear about anything…she started the first lesbian and gay club…and she was really out there and I really respected that," said Mrs. Nunn. Mrs. Nunn described Mrs. Alexander as "her spirit animal" because of how unapologetically herself that Mrs. Alexander portrayed herself as.
"I met my husband in Vegas, on a spring break trip senior year…you know, he is from England so he was there hanging out with his friends…I reached out to him and we dated long distance for three and a half years and then I planned our wedding and we got married!" Mrs. Nunn said. Mrs. Nunn's family spans across the world and acknowledges that it can be difficult, both financially and emotionally, but the diversity and love she has for her family makes up for it. 
When asked what she tries to stress to students, she explains to us that she wants her students to understand and respect that being on your phone while someone is trying to talk to you is disrespectful and needs to end. "Instilling mutual respect, manners, and human interaction is something I always try to instill in students" Mrs. Nunn said. She also believes that your manners can make or break you and if they are good, you will be able to succeed in life. 
Mrs. Nunn has shown us to represent a very creative and old-fashioned soul. She had a very well-rounded childhood, and has a great relationship with her widely diverse family. She continues to represent a brilliantly and amazing journalism teacher and we couldn't ask for anyone better.
About the Writer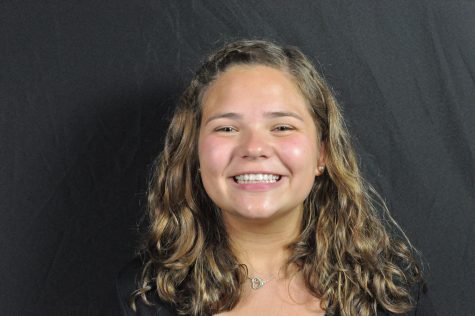 Bailey Heaton, Staff Reporter
Hey! I'm Bailey and I'm a junior here at Klein Collins. This is my first year on the Legacy Press staff and I couldn't be more excited! I'm also a proud...