Senior Spotlight
September 27, 2022
Senior Ava Aldridge is a member of the track team along with membership in other school clubs. Track is what she likes to do for fun and found it appealing to her strong nature.
Ava joined the track team her junior year of high school. Some people don't find track very appealing. Those people don't see the true beauty behind the sport, Aldridge saw past the negative outlook and discovered something great.
"I joined track because I love the competitive atmosphere," Aldridge said.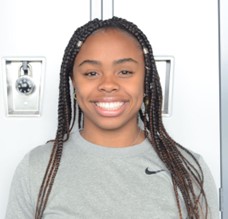 Being in track is one thing but being in it with the hot Texas sun beating down is another. Some would find it unbearable to be outside much less run in it. Aldridge told us what she struggles with most when it comes to running in the heat.
Aldridge said, "The struggle of running track in the Texas heat is fighting dehydration and learning your limits. You get fatigued faster so short productive workouts are favored," Aldridge said.
There are many different track events to participate in.
"I run 4×1 and 4×2 relays, but I love to run open events such as 100m and 200m the most," Aldridge said.
Athletes know they have to have a routine to get themselves ready for an event or meet. A certain kind of music, or food you eat before to get you prepared for the day. Aldridge broke down what her pre-meet routine is that helps her get into the right mind set.
"Before every meet, I have to hydrate and lock in by listening to meet day music," she said.
There are many different clubs and activities offered at school, so being on the track team isn't the only school activities the this runner is involved in.
"I am in Key Club, Fellowship of Christian Athletes, National Honors Society, and Science National Honors Society."
As she enters her final year of high school she looks back at the memories she has made throughout the years.
"My favorite memory of  high school is going to football games with my friends."
While it's great to look back at memories it is also important to look to the future, with graduation eight months away many seniors are starting to apply to college.
"My plans after high school are to go to LSU and major in biology followed by dental school," she said. "I want to become an oral surgeon."