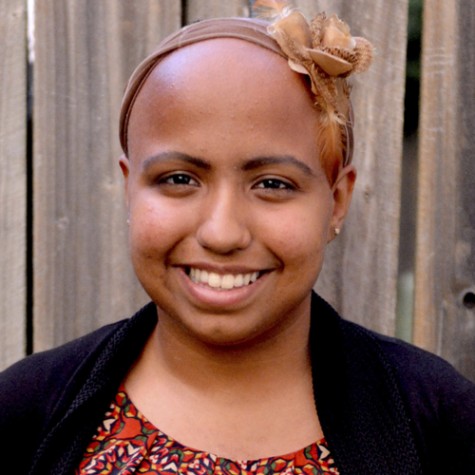 My name is Sanah and I'm so happy to be this year's print editor-in-chief. I could start listing facts about myself and use smooth transitions to make it all fit together, but I'll make this a little more interesting. I'll tell you a story.
I love ice cream more than I love most things. The flavors, the toppings, everything that comes with it just brings me joy beyond anything I could ever imagine. I'm a big fan of metaphors and ice-cream (probably my two favorite things ever), so my freshman year I would always compare my life to an ice-cream shop.
I would think about all of the flavors, all of the uniqueness, all of the endless possibilities. And then I would think about myself. And I always compared myself to vanilla.
Plain, boring (no offense to all of you vanilla lovers out there), vanilla with no toppings. Just ordinary. At least that's what my insecure freshman self thought.
One day I realized that I wasn't actually vanilla, I was just settling for vanilla. In reality, I could be whatever flavor I wanted, with whatever toppings I wanted.
Moral of the story: All of your life, people could call you boring. They could call you insignificant, unimportant and make you doubt your worth. Truth is, that's life. Over and over again you will find yourself consumed in self-doubt, insecurity and hopelessness. I know I did, until I learned not to settle. I learned to define my worth, build myself and not be afraid of what people thought. I learned to step out of my comfort zone, make new friends and go for dreams that seem out of reach.
So, here I am after my four-year climb to the top. In no way am I perfect, or even close. My life is still a mixture of having it all together and feeling completely lost. Of knowing exactly what to say and not being able to speak a word. Of feeling extremely in touch with my emotions and having no idea of what I'm feeling. It's a mess, but it's my beautiful mess that I couldn't be more in love with.
Sanah Jivani, Print Editor-in-Chief
Jul 17, 2015

Walking on sunshine

(Story)

Jun 26, 2015
Jun 12, 2015

Voyage of a lifetime

(Story)

May 28, 2015

Surviving and thriving

(Story)

Feb 13, 2015

Beyond the surface

(Story)

Jan 09, 2015

The perfect harmony

(Story)

Jan 08, 2015

Expectations vs. reality

(Story)

Jan 08, 2015

Anxiety for the awards

(Story)

Jan 08, 2015

Chick-fil-a sandwiches are back, TAP finds new ways for funding

(Story)

Jan 06, 2015
Jan 05, 2015

Some things never change

(Story)

Nov 20, 2014

Dancing for her dreams

(Story)

Nov 12, 2014

Bittersweet endings and new beginnings

(Story)

Nov 12, 2014

Christopher Lestage – Athlete of week

(Story)

Nov 05, 2014

Students encouraged to enter art and writing awards

(Story)

Oct 20, 2014
May 29, 2014

Two is better than one

(Story)

May 27, 2014

Student works toward film-making career

(Story)

May 23, 2014
Mar 19, 2014

Capturing more than memories

(Story)

Mar 12, 2014
Mar 12, 2014

Gender expectations worrisome

(Story)

Feb 27, 2014

Students struggle with nervous habits

(Story)

Feb 12, 2014

#NaturalDay goes international

(Story)

Feb 03, 2014

Community encouraged to go red for heart disease

(Story)

Jan 08, 2014

Snapchat user info compromised

(Story)

Jan 03, 2014
Dec 02, 2013
Nov 28, 2013

A cup of addiction

(Story)

Oct 30, 2013

Student works to improve personal fitness

(Story)

Oct 09, 2013

Klein ISD hosts college night

(Story)

Sep 30, 2013

Ask.fm leads to bullying

(Story)

Sep 18, 2013

No fault in 'The Fault in Our Stars'

(Story)

Aug 29, 2013

High school myths: busted

(Story)

May 20, 2013

Picture perfect: the effects of media on self-esteem

(Story)

May 15, 2013

Junior Wins Variety Show

(Story)

May 09, 2013

Tigers Got Talent Promises Thrills

(Story)

Apr 15, 2013

Effectiveness of Class Ranks Examined

(Story)

Apr 09, 2013

Bullying Never Right, Causes Longterm Emotional Effects

(Story)

Jan 30, 2013
Nov 07, 2012

Horseback Riders Trot Towards Triumph

(Story)

Nov 01, 2012

Area Haunted Houses Evaluated

(Story)

Oct 18, 2012

Local Restaurants Trending Among Students

(Story)

Sep 21, 2012

Progeria Patient Inspires Student

(Story)

May 15, 2012

Idol Inspires Freshman to Embrace Herself

()

Mar 27, 2012

"American Idol" Trumps "The Voice"

()

Mar 27, 2012

Freshman Surfer Tames Waves of Life

()

Feb 14, 2012

Gum-chewing Increases Brain Power

()