Olympic medal count lower than expected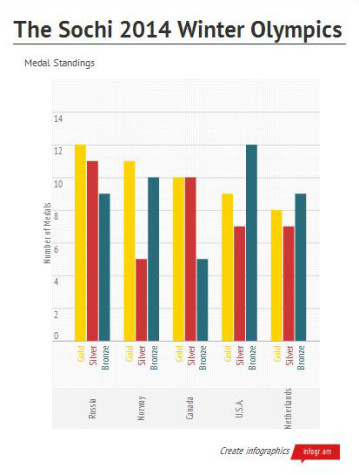 The 2014 Winter Olympic Games in Sochi concluded on Feb. 25 with the U.S. team bringing home nine fewer medals than the 2010 Vancouver games.
The host nation, Russia, came out on top, winning 33 medals, 13 of which were gold. Norway, in second place, won 26 medals, 11 of which were gold, followed by Canada at 10 gold medals and 25 overall. The United States' 28 medals, nine of which were gold, put them in fourth place. Freshman Samuel Gordon expressed his disappointment in this year's outcome.
"Being a hockey player, I love the winter olympics," Gordon said. "I was devastated watching us lose, when we have been more successful in the past."
For the first time since 1984, no medals were won in speed skating and for the first time since 1936, no medals were won in individual figure skating. The men's hockey team inherited the "Miracle on Ice" legacy, a movie made about the 1980 USA olympic hockey team, but the team was outscored by a total of six to zero in the medal rounds.