New graduation plans under House Bill 5
Starting in the fall of 2014, new graduation requirements will go into effect for incoming freshmen. The new graduation plans, which come from Texas House Bill 5, require students to complete a foundation and an endorsement plan. Foundation plans include core classes, while endorsement plans are subject and career based. A distinguished plan is also available requiring four credits of math and four credits of science, including endorsement.
Associate Principal Mandy Land says that Klein ISD is prepared to give students the opportunity to choose from any of the five endorsement plans, which include STEM (Science, Technology, Engineering, and Math), Business and Industry, Public Services, Arts/Humanities and Multidisciplinary Studies.
"The Klein ISD is offering all five endorsement plans," she said. "We have the ability to offer all the endorsements, but we might not be able to offer all of the career clusters within the endorsement area."
Changes from the current Recommended and Distinguished plans include a greater flexibility and career specific courses for students.
"I think this is better because the four-by-four plan, which is what we currently have, has more of an one size fits all idea," Land said. "This allows kids to choose courses that interest them. I like the flexibility that allows students who may want to be a criminal justice major to take forensic science as their fourth-year science."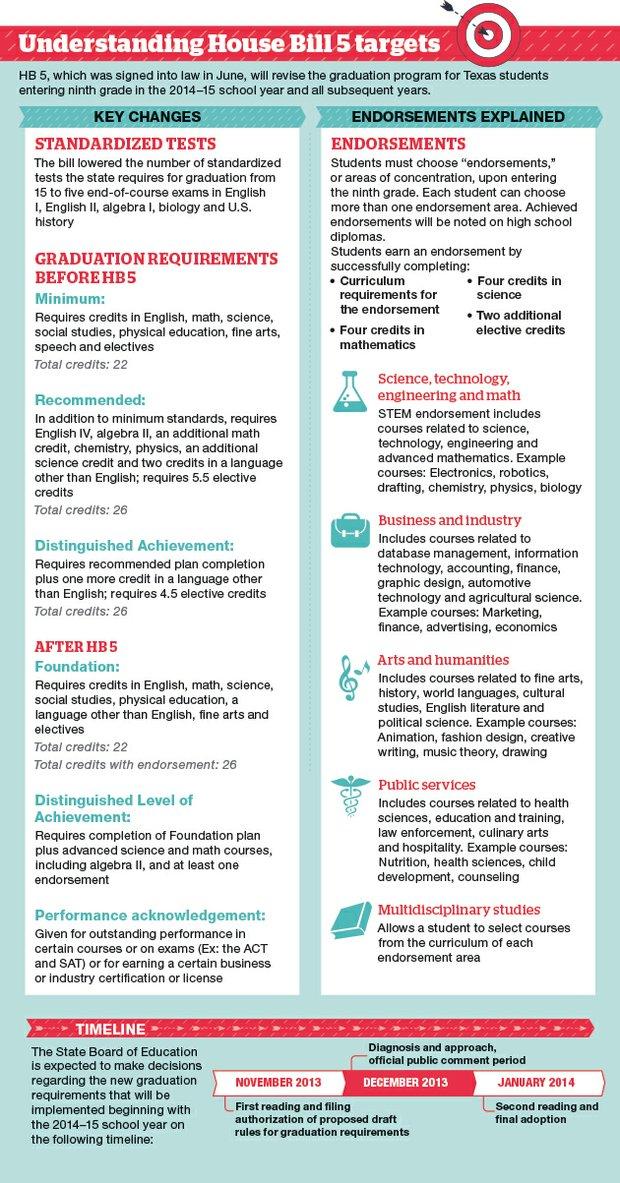 Though the new graduation plans grant students more freedom in choosing their courses, it also limits students to their specific endorsement and could bring challenges to the schools' faculty.
"Right now, kids have to choose their endorsement when they are in ninth grade and I don't think many students know what they want to be when they grow up by then," Land said. "Each counselor has to sit down with every child or parent to create this plan and this is extremely time consuming for the counselors."
Current freshman, sophomores, and juniors also have the opportunity to graduate under the new graduation plans if they meet the graduation requirements of one of the endorsements.
"I probably wouldn't choose to graduate under the new graduation plan," junior Lillianne Le said. "I've already completed all the requirements for me to graduate under the Distinguished Plan so there isn't a point for me."
Senior Tristan Watson, who has a younger brother in the seventh grade, disagrees with the freedom of the plan, believing it will ultimately hinder the value of education.
"I think this will affect my little brother's class because they're not required to take harder classes so its a lot easier to take the minimum requirements as opposed to exerting yourself and taking those AP classes that are actually going to help prepare you for college," he said. "I think there's a necessity to being forced into taking harder classes. Doing it gives you experience, and this plan is trying to make students specialize too early."
For more information on how the Klein ISD is implementing House Bill 5, visit:http://www.kleinisd.net/users/CTE/page.html