2014 KCHS graduation information
Important Dates to Remember
March 17 – May 9 TAP ticket sales Fridays during lunches
April 14 – 25 Prom ticket sales during lunches for $65.00
May 13 Cap and Gown Distribution (2nd Period)
May 16 Senior Meeting (4th Period)
May 17 Prom – The Woodlands Waterway Marriott (8:00 pm)
May 18 TAP – Commons (12:00 am)
May 30, June 2 – 3 Senior Finals
June 4 Senior Awards – Auditorium (9:30 am)
June 4 Graduation Seating Assignments – Small Gym (10:30 am)
June 5 Graduation Rehearsal – Large Gym (10:30 am)
June 7 Graduation – Reliant Stadium (12:00 pm)
August 23 Summer Graduation – Klein Collins
TAP (Tigers After Prom)
TAP tickets will be on sale in the Commons on Thursdays and Fridays during all lunches. After Spring Break through April, tickets will be $75. In May, tickets will increase to $100. Tickets must be purchased by May 9. Each ticket includes a t-shirt which during the activity. Sign-in begins at midnight and everyone must be signed in by 1:15 am. There will be no admittance after this time. TAP ends at 6:00 am.
Final Exams
Seniors are required to attend all classes whether exempt or not when the campus is designated "closed." Exempt seniors may leave campus when the campus is designated "open," but may not re-enter the campus. If a student has a multiple period class (Cosmetology, AG, etc.) in which the exam is given during one of the hours, the student must still remain in the class the entire 2 or 3 period time slot.
Awards Program
Klein Collins High School Senior awards program will be held in the auditorium Wednesday, June 4 at 9:30 am. These awards program has been planned to honor all seniors and their parents. Please invite your parents to attend. Since this is the last formal program of the class, please dress appropriately (no jeans, t-shirts, tennis shoes or flip-flops). Your cooperation requested.
Scholarship Recognition
Seniors have the responsibility of notifying counselors of all scholarship offers and acceptance. All letters notifying seniors of scholarships awarded and accepted should be taken immediately to Mrs. Emily Jennings in the counseling office. We want to recognize all scholarships that students accept.
Graduation
Cap and Gown Distribution
Cap and gowns will be distributed on Tuesday, May 13 during 2nd period. All textbook and other monies owed must be cleared before caps and gowns are released. If you have not ordered a cap and gown, you can still do so online at www.myhjgrad.com.
Seat Assignments and Rehearsal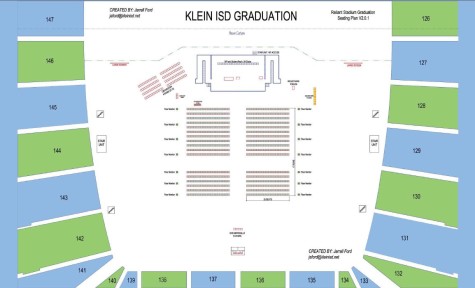 Seniors must report to the small gym at 10:30 am on Wednesday, June 4 for seat designations. It is mandatory that all seniors be present. Check in at the tables located in the small gym for seating designation. Mandatory graduation rehearsal is scheduled for Thursday, June 5 at 10:30 am in the large gym. In case of emergency or severe illness, please have a parent/guardian come in your place so that line up and seating arrangements may be finalized.
Handicapped Guests
Guests in wheelchairs should enter through the Amegy entrance of Reliant Stadium. A section is reserved on the top level for persons in wheelchairs and their families.
Cap and Gown Etiquette
The boys are asked to wear light colored shirts with ties, conservative trousers, shoes and socks (not tennis shoes). The girls should wear dresses and shoes that compliment the gown, and wear the collars which are provided (keep in mind you will be standing awhile and walking up and down ramps). If all seniors follow this pattern of dress, the class will look uniform in its caps and gowns, lending the proper dignity to the graduation ceremony.
Please observe the following guidelines:
Wear a cap with mortarboard flat not tilted.
Begin with tassel on right side, move to left when instructed to do so.
Boys will remove cap during National Anthem, prayer and pledge; then replace cap and fix tassel; girls do not remove caps.
No corsages on gowns.
Boys should be clean-shaven.
Remove all facial piercings.
Do not carry anything (i.e. purses, brushes, cell phones, etc.) with you when reporting to line-up in the Reliant Stadium service level corridor. There will not be a secure area in which to leave items.
Line-up, Processional and Parking Information
Graduates should arrive at Reliant Stadium for line up at 10:45 am. Check in with your assigned row monitor upon your arrival. The processional will begin promptly at 12:00 pm. Parking fee at Reliant Stadium is $10 per vehicle.
Walk two steps directly behind the person in front of you.
Do not allow large distances to develop between you and the person in front of you. Pair off with the person who comes up, whether it is the person you practiced with or not.
Proceed to the proper row to seat assignment and remain standing until all graduates are in place.
[wysija_form id="2″]
Recessional
The recessional will begin from the back row immediately following the benediction. Remain in your place of order at all times and follow instructions form the floor marshals. Each row will wait until the preceding row is clear before beginning its march. Do not enter the center aisle. The recessional uses the side aisles only.
Diplomas and National Honor Society
During the ceremony graduate will be handed a diploma cover only.
Immediately following the graduation ceremony, seniors will report to the same corridor they lined up in where they will pick up their diplomas. Tables will be arranged alphabetically for this purpose.
National Honor Society stoles may be returned and deposits refunded on Monday, June 9 following graduation. A table will be set up adjacent to the front office from 8-11 am.
Summer School Graduation
The summer Graduation Commencement Ceremony will be on August 23th. Detailed additional information will be mailed to all eligible participants.
Immunizations
You may contact the Clinic to request a copy of your immunization record for college, military or any other business purpose. A 24 hour notice is required for pick up, mailing or faxing the record. Call 832-484-5194 for additional information.
Commencement Photographs
Please ask your friends and relatives not to enter into the area where the graduates are seated in order to take pictures during the graduation ceremony. A photographer will be present to take your picture as you receive your diploma. Additionally, a DVD of the graduation ceremony will be produced for you to purchase. Order envelopes for commencement photographs will be distributed at the graduation rehearsal assembly. Loyd's Photography & Video will once again be performing this service for Klein Collins High School. A representative will be available the day of graduation on the upper entry level of Reliant Stadium to accept orders.