Remind me again?
Teachers use app to connect with students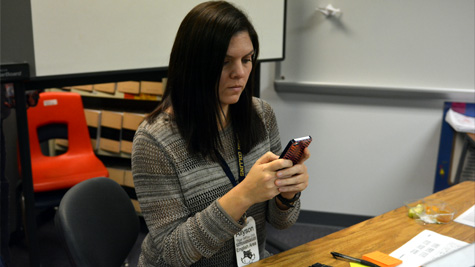 This year the use of a notification app called Remind was introduced on campus. The Remind app allows teachers to send text messages and reminders of upcoming assignments and due dates to students and parents that sign up for the alerts.
"I wanted to use the 'Remind' app because I felt like I never did my homework," sophomore Brianna Arredondo said. "My mom suggested that I use the app."
Teachers can send reminders about homework, tests, or quizzes and attach files.
"I've only used the app twice, but I have had almost 100 percent of students turn in their homework on time," english teacher Laurie Marek said. "You can send a message directly to a student if an assignment is late."
Sophomore Marissa Mireles said Remind helps her turn in her work and improved her study habits.
"The app has helped me by reminding me to do my homework," Mireles said. "The remind app is an appropriate way for students to remember to do their work."
Approximately 3 in 4 school districts use the app according to the Remind website.
"It's more effective than a paper calendar, kids don't even read their emails and I feel like a text gets the point across," Marek said. "I like the app because I can keep up to date with assignments, I think it's the way of the future."