VASE Creates Space for Artists
Art students to participate in Visual Arts Scholastic Event competition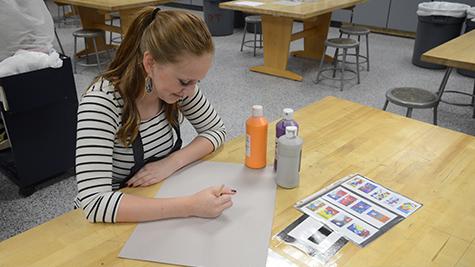 On Feb. 13, the Texas Art Education Association VASE, or Visual Arts Scholastic Event, will be held at the school. VASE is an annual art competition where students enter pieces of their artwork for critique, and the chance to move forward to the state competition.
Art teacher Mike Hall is the director of VASE.  Hall is in charge of Region Four North and oversees the competition in Houston.
"There are about 70 judges at the event and 154 pieces of artworks to be judged," Hall said. "The artwork that earn fours get judged again, and out of that group, about 10 percent move on to state. That's about 220 pieces that go to the state competition in San Antonio in April. Every year there has been at least 10 students from this school to go to state."
This will be Ariel Spoonemore's as a contestant in the competition.  According to Spoonemore, the best thing you can do to prepare for this event is to try your best.
"I wasn't really stressed in deciding what I should show for the competition," Spoonemore said. "I already had an idea of what I wanted to do. I think this competition will prove to be fun because not only do I get to see other people's work, but I get to truly explain my artwork and in return, get constructive criticism that will benefit me in the future."
According to senior Zoey Sweat, although the judges are looking for certain qualities in the artwork that you may or may not have, it should not be a stressful ordeal because the competition is ultimately an opportunity for self-expression.
"VASE lets you be you," Sweat said. "We as artist have so many ideas, so many things we want to create. Sometimes you'll see a piece of art that's more attractive than yours, but art isn't about comparing, it's about getting the feeling across. VASE allows you to explore and test what you are capable of."
Students interested in submitting art must pay a $15 fee, maintain a passing average in all classes and have a sponsor.