"Minter" is upon us
Imagine walking into the Woodlands Mall during the holidays, stores are decked out with shiny tinsel, colorful lights, gigantic hanging ornaments and wreaths galore. Every store has an individual holiday display set up in the window, ranging from nativity scenes to the generic snow covered house ready for Saint Nick. One thing that is sure to be found throughout the mall, is the smell of peppermint being pumped in through the air vents setting the mood for the season.
The holidays have arrived and so has the overwhelming flavor and scent of peppermint. Once a year, holiday drinks, perfumes, lotions, candles, air fresheners and snacks pop up on store shelves everywhere. 'Minter' is upon us and it's unnecessary.
A nose can only handle so much minty air before it becomes an overload. There are only a certain number of scents the nose can take in at one time, and if every single one of them is peppermint, the other smells of the holidays are completely missed. Too much peppermint can create a burning sensation inside the nose, causing massive, long-lasting migraines. The nose is also the gateway to taste: if everything smells like peppermint, everything will have a trace of peppermint flavoring, whether intentional or not.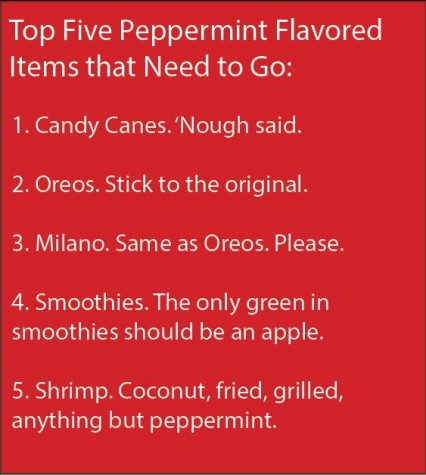 Peppermint is used to flavor toothpaste, mints and mouthwash year-round. For some reason during the holidays the flavor of mouthwash is no longer thought of as just a flavor for dental hygiene products. It has become the taste and scent of the holiday season, it is dyed red and made to be something it isn't.
Peppermint is supposed to possess stress relieving qualities, but the earlier it is used the earlier holiday shoppers start stressing over prices and feel unprepared for the too soon approaching gift giving season. Peppermint were once a happy and calming thing, now the smell and sight of peppermint adds more stress than it relieves.
The vague taste of peppermint in a mocha and the light scent of it when you enter a home can be enjoyable. It does have a way of putting people in the mood for Christmas carols and curling up by a fire, and puts them in an overall good mood.
While peppermint is a nice touch when used in moderation, mix it up. Other scents and flavors have become synonymous with the holiday season as well. Cinnamon, chestnut, vanilla, sugar cookies and the smell of pine are all great alternatives to overused peppermint.