In…friend love?
Student defines a 'friend crush'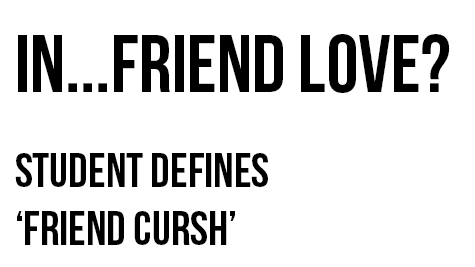 Boy meets girl. Boy makes jokes and starts a witty conversation. Girl laughs and continues conversation. Boy and girl part ways. Girl spends time thinking about boy. Boy spends time thinking about girl. Is it a crush? Is it love? No, it is a friend crush.
"I actually have instantly met someone and felt like 'oh my gosh, I could be best friends with this person' without even knowing them or talking to them for more than two seconds," chemistry teacher Amber Manus said. "[Friend crushes] give off some energy that I think you're drawn to and you want to get to know more about them and what makes them tick."
According to junior Danielle Malubay, friend crushes occur when encountering and wanting a friendship with a like-minded person.
"I see parts of myself in [my friend crushes]," Malubay said. "Whenever I see [a friend crush], I mentally cut and paste myself next to them and imagine us talking about our favorite bands or what shows we're watching or how cute their outfit is."
Sophomore Anna Holley said making the transition from a friend crush to a real friendship is challenging.
"I feel like we need to be friends but how do you say 'I don't know you, but let's get frozen yogurt,'" Holley said. "It makes me feel kind of clueless honestly."
Holley said people should take a risk and talk to their friend crushes.
"There was this one girl I thought was so pretty and she was super sweet too," Holley said. "I saw some of her tweets and [direct messaged] her and we just started talking and now we're friends."
Friend crushes provide an opportunity to explore new personalities according to Manus.
"If someone has a friend crush or is vibing off someone's energy then I think they should approach them and meet new people," Manus said. "It's an opportunity for you to go out and see the different personalities that the world has to offer. I think people are so scared of meeting new people and going to talk to strangers, but I say go for it. Go talk to them."