Curtain Closes on Seussical
"Seussical the Musical" production finishes run after seven shows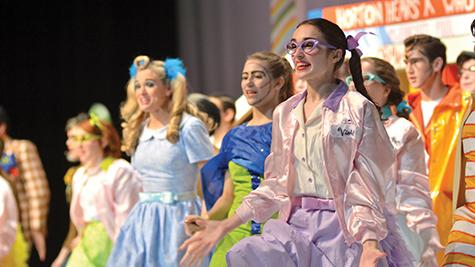 "Seussical the Musical" debuted on Jan. 28, and the cast and crew of the musical performed a total of seven shows, with the last on Feb. 6.
According to Drama Club publicity crew head junior Talia Guzman, the musical sold 3,843 tickets for $10 each.
"Seussical was a big success," theater director Robin Welch Wood said. "Everyone seemed to love it, all the feedback we received was very positive. We had very large audience numbers and we even sold out the final two performances. And more than that, we know that we did the very best show we could do."
Students ranging from elementary to high school were involved in the musical.
"Over a hundred students, and a number of parent volunteers putting their hearts behind what we do is a great honor," theater teacher Norman Grueneich said. "Thousands of individual man hours and great deal of financial resources go into these productions we do during the year.  When a Klein Collins event receives such great support from the community, Klein Collins can shine with pride in the achievements of our students."
According to freshman Josiah Brown, performing in Seussical was a great experience.
"I played three characters: a Who, a hunch and a hunter," Brown said. "Being a part of Seussical is really cool. I met new people, and now we're like a family."
The drama department will now start preparing for the One Act Play for University Interscholastic League (UIL) competition in the spring.
"We hope to continue to grow and sail the course of excellence in what we do," Grueneich said.