Prom Season Brings Creative Proposals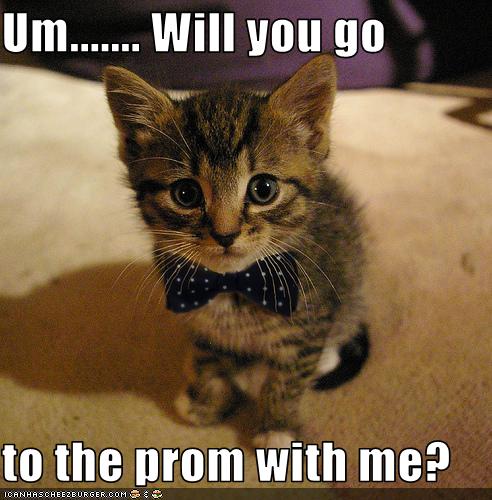 "At first, when people didn't know what I was going to do they looked at me funny, but when I was reading out the poem people were like, 'oh that's cute'," senior Taylor Stricklin said. "Then when I said 'will you go to prom with me' the entire plane went 'aaw'. And when she said yes the whole plane cheered."
Like a scene out of a romantic comedy, Stricklin asked his best friend from church to prom while on a flight to England during spring break. Serving her ice cream in a suit and tie, Stricklin wrote and recited a poem highlighting inside jokes and events of their friendship.
Considered a rite of passage for high school seniors, prom presents itself as more than just a dance. From dresses to after-prom events, it all begins with one moment, being asked. The simple question "will you go to prom with me?" has become an event in and of itself, prompting extravagant gestures ranging from scavenger hunts to messages in the sky. Senior Diana DiMeglio's boyfriend asked her to prom via cookie cake frosted with a whale and the words "whale you go to prom with me?"
"A guy doing something to ask a girl to prom shows that he really likes her and that he wants to make it special for the both of them," she said. "It just depends on the person, because there could be the guy who doesn't really want to do anything big and is just a simple guy or the guy who wants to go all out for prom."
In order to set up his scheme to ask his friend, Stricklin began planning in February, going through possible scenarios. After deciding on the poem, he took a few weeks to write it, finally finishing on the plane. While the extended planning may seem acceptable to high school seniors, physics teacher Claire Sauder sees it as excessive and characteristic to the current generation.
"When I went to prom, there were no big displays, there was no giving of the flowers or making girls solve puzzles, they simply asked you to prom," she said. "I think it's a lot of pressure on the guys to be really creative because it's prom. There's a push to make it bigger than life, so if a boy simply asks a girl to prom, then he's not living up to the female's expectations."
However, for senior Anna Landreneau, the larger than life aspect of creatively asking someone to prom embodies what makes the experience special, creating vivid memories of being a senior.
"It's those moments of spontaneity and grandeur that we'll remember the best," she said. "Not to mention when a person works hard to ask someone in a creative way it really makes them feel special, which is important."
Landreneau took an alternate route and decided to ask someone herself. Hiding inside a gift-wrapped cardboard box, she popped out to surprise her date to prom.
"I knew I really wanted to ask someone in an extravagant and funny way especially since I had never asked anyone myself before," she said. "He's quite the gent. I picked him because I knew he'd like it and he's a really fun guy to hang out with so we'd have a blast going together."
[wysija_form id="2″]
With the rising number of "prom-proposals" sweeping the nation, there are those who decide to take asking to a more "sky-high" level. Aerial Messages, a company that flies banners in the sky, reported receiving prom requests for the first time. For $600, the company can fly the question in the sky for all to see. However, to DiMeglio, it is not the money spent that matters.
"It doesn't have to be anything material just as long as there's thought and meaning put into it. It can be little and still be thoughtful," she said. "If he had just said 'will you go to prom with me' I'd have been like 'yeah,' but he put more thought into it."
Comparing her own high school years to those of her students, Sauder said that the extravagant proposals leave people with something to top in their future.
"I think you have to leave the big stuff for something important, like getting engaged," she said. "That's a big thing. So what are you going to do when you get engaged? When a guy does ask a woman to marry him, how is he going to live up to what happened for prom? I'm more for just asking. Guys can ask cleverly, without it being a big to-do."
While Stricklin said that asking people to prom through JumboTrons at sports games or reenacting a proposal with rings was too much, he believes that effort should be put into asking.
"You should be kicked in the rear if you ask a girl to prom through a text message," he said. "Asking a girl to prom has grown through time and people just get more ideas and ideas turn into actions and actions turn into answers, and she said yes. And I'm going to have a good time at prom."