Game Preserve: Game Not Over
     Game preserve is a retro style arcade with over 125 classic machines at the 6,500 square feet woodlands location. Walking through the doors is a blast from the past with throwback games such as, Space Invaders, Galaga, and Joust. In addition to arcade machines, game preserve offers a wide selection of pinball machines- new and old.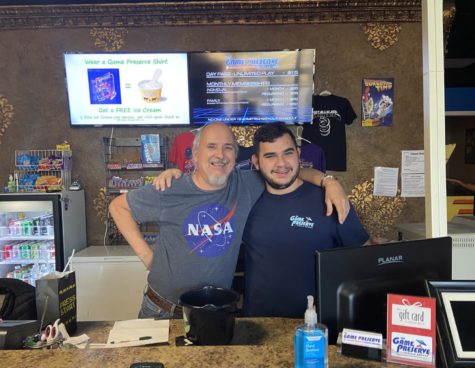 One of the greatest aspects of game preserve is the vibe. The game room floor is complete with black lights, 80's music videos playing on the big screen and walls lined with games. It is a great place to bring your friends for a day of friendly competition and fun. 
      "We are a family oriented classic arcade, and we are the only place in Houston where you will find a true classic arcade, running the original equipment, original monitors in an environment that is family friendly," co-owner Rusty Key said.
     Places like Game Preserve are hard to come by, and the motto "Game Not Over" signifies how these old games seem to disappear as time goes on, but they don't just disappear, game preserve brings them back to life, in a great environment perfect to work on your skills.
     All the games are available for free unlimited pay with the entry fee, so no need for a pocket full of quarters when visiting. They offer daily entry for $15 dollars a person, monthly memberships for $35 dollars per person and 5 guest passes, or the family monthly membership for $70 dollars that covers everyone in your household with 10 guest passes.
     Game Preserve also offers tournaments for pinball, weekly and monthly. These tournaments attract many players and are a community for those who love arcade style gaming. The competitions are available to all ages and skill levels and is a great way to get started if you are interested in getting into pinball. 
     "We were listed in The Woodlands community papers as one of the top date spots in The Woodlands. We've had at least four or five people I know that have met here that have since married and we've had two proposals, at least five bachelor parties and one wedding here in the arcade. We love our members. We love our family," Key said.
Whether you go for competition or just fun you will not regret going to Game Preserve. The entry cost of 15 dollars lets you do more than just play games, it gives you the chance to take on a whole new hobby surrounded by people who will help you and encourage you as you learn. Overall, Game Preserve offers a great environment to try something new!