See the person, not the chair
Senior seld hockey player overcomes adaptive challenges
A simple throat infection started it all.
Veronica King noticed something was wrong with her six-month-old, Cody, when he had constant cold-like symptoms and limited movement abilities. Worried, she took him to the doctor where he was diagnosed with a throat infection and sent home with medication hours later.
Cody's fever rose to 104 degrees a week later, forcing his family to have him transported by ambulance to Texas Children's Hospital in Houston. After eight hours of examination by countless doctors, including neurologists and infectious disease teams, a conclusion could not be reached. Doctors decided to perform an MRI and a spinal tap on six-month-old Cody.
The Diagnosis
"Their findings were that he had inflammation caused by a viral infection. The throat infection," Veronica said. "The inflammation rested on top of his spine. They diagnosed him with Transverse Myelitis."
Cody is one of 1,400 new cases of TM diagnosed each year in the U.S. according to the National Institute of Neurological Disorders and Stroke. TM causes nervous system scars that interrupt communication between nerves in the spine and the rest of the body. Cody was heavily treated, helping him regain movement while the inflammation lessened. Because of Cody's delicate age, the medicines could only be administered for a short time.
"The inflammation lessened, but trickled down his spine and stopped healing at the waist level, leaving him a partial paraplegic with very weak lower extremities," Veronica said.
Texas Children's Hospital stopped what they could before his condition worsened, but not before permanent damage was done.
Growing Up
For the first three years of his life, Cody's family spent weeks and sometimes months at a time at the hospital. They spent so much time there that they started calling it home. He spent many years in therapy undergoing various treatments.
Fast forward seventeen and a half years and Cody is a senior with weeks left before graduation.
"Thinking about it, this is better than getting it at an older age because then I'd have the memory of walking, then losing it," he said. "There is no set amount of damage. It affects others differently. Some have it better than me and some have it worse."
"
I started to notice that people who did not know me didn't see me as normal, because I'm not.
— Senior Cody King
Cody believes his parents saw fit to treat him the same as a kid without disabilities and did not feel any different from other young children.
"The kid days were awesome, not a worry in the world. I could do and act however I wanted, pretend to be a power ranger or Spiderman, just the basic kid stuff," he said. "I felt like a normal kid, with a few different ways of doing things."
Trying Times
Through the years, he began to notice stares on the street from curious onlookers. This bothered him at first, but he has learned to overcome many struggles.
"As I got older, the differences became more apparent. I was going to therapy sessions about twice a week and always questioned why I had to go," he said. "Eventually, I started to notice that people who did not know me didn't see me as normal, because I'm not. I now understand that they are not accustomed to seeing a disabled person on a normal basis."
Cody had to overcome physical issues, requiring assistance with simple things because he was extremely weak. He began Crossfit earlier this year and connected with a man in the area who has a similar disability and quickly became a source of support. Two years ago, Cody's dad found a program known as "Star Skaters" that provides ice skating and hockey as at type of therapy.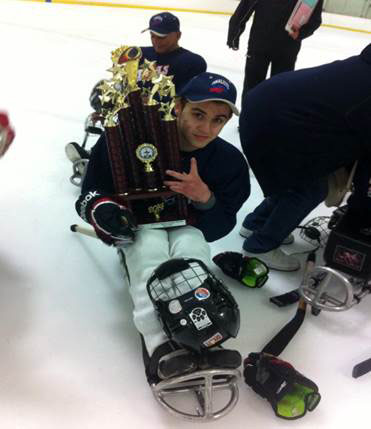 "Because of my handicap, finding sports and activities to do can be somewhat difficult," he said. "My interest in football propelled me in wanting to find a sport that could work. I've stayed with sled hockey ever since the beginning, practicing every Saturday at the Memorial City Mall ice rink.
The program has grown since, putting together a team with players across Texas, known as the "Texas Stars." Every year, there is a national tournament held for sled hockey teams for players who meet the age requirement. Cody competed for the first time this year.
"The team is made up of extraordinary people who each have their own unique story. Some people have no leg function, some have no legs at all and one amazing teammate has no legs and only one arm. He's the best one on the team," Cody said. "This year, the tournament was in Boston. We won two out of three games, earned a silver medal and received the second place trophy. That is a huge improvement for the team, having not won a game last year."
Looking Ahead
Cody plans to continue playing sled hockey while attending Texas A&M University to study visual effects and animation. He said, even after all that has occurred in his life, the future is what he chooses to focus on.
"Everyone has their differences and no one is perfect. We should just throw away appearances and get to know people for who they are."