Mascots are a crucial part of high school as they create an identity for the school while bringing it to life. The mascot creates a sense of belonging as everyone is united by one name. The mascot's role is to entertain the students and families while promoting school spirit, but there is so much more to it than that. Our very own mascot, Sophomore, Daniel Turney, speaks about his experience as a mascot.
Turney stepped up to take the suit when no one else wanted to. He felt compelled to take the role of mascot because of his family and because of what the mascot represents.
"The family really," Turney said. "No one else wanted to do it. The mascot basically embodies the entire school, you know, our strength and our passion. I take that to heart."
Last year, Turney's oldest sister was the Lady Tiger Mascot. Turney had the chance to mascot with her during his freshman year. He explains that it is a time he won't forget.
"Last year, I was the mascot with my oldest sister and probably the best mascot," said Turney.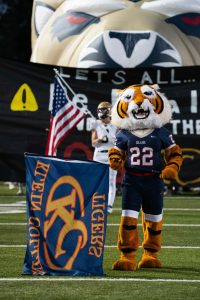 "It was an experience. We had some ups and downs but we got through it. She ended her senior year with a blast. I had a blast through my freshman year                   and it was great."
Turney feels that being on the track to support the players and pumping up the crowd is the best part of being a mascot, especially cheering up the little kids.                A great mascot has to have many skills to perfect the mask such as creativity, humor, and the ability to maintain heat.
"You know, being on the track supporting the football players and supporting everyone," said Turney. "There is cheering up little kids when they cry and hyping up the sections. It's high on the list."
One of the hardest things about being a mascot is regulating the heat. Being inside of the suit will cause the temperature to rise by 20 degrees on a cool day. Turney has a game plan in place to keep him cool and able to perform during the games.
"Lots of breaks," Turney said. "It gets over 140 degrees. It's like walking in Death Valley. I take a lot of breaks and drink a lot of water. Especially on hot days, I'll have an ice vest to keep me cool."
As a mascot of our school, Turney is held to a higher standard. He has to showcase our school values on the field and in the classroom. Turney strives to promote school spirit on the field by his special moves to hype the crowd and outside of school by promoting the mascot on his Instagram page to get students involved. Turney says the key to being the mascot is to simply have fun.
"Go out there and have fun. That's all there is to putting on the suit," said Turney.  "It's challenging because the suit contains some movements. So just go out there, have fun and be the best you can possibly be."