Rowing her way to success
Sophomore joins Woodlands rowing team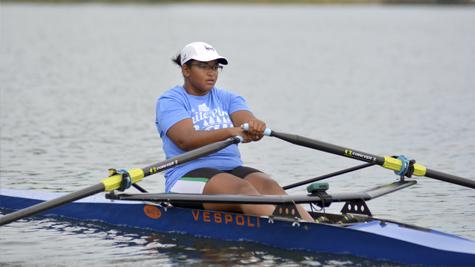 The oars break the waters' still surface harshly as she makes her way across the lake. Push, pull, push and pull. She senses her competitors gaining on her, but using all the might she can muster, she pulls ahead and pushes swiftly across the finish line.
A competing junior for two years and a rower for six, sophomore Cateri Dixon competes for the Woodlands rowing team.
It was her dad that got her into rowing, according to Dixon.
"My dad has been rowing since his college days," Dixon said. "When I was nine, my parents brought up the idea that I could a join rowing team, I thought it was cool."
Dixon said that rowing improved her health, her relationships and possibly her future.
"I'm really fit, my team is a great family, I have traveled a lot and it might help me get some good scholarships for college," Dixon said. "Although it takes up a lot of my time and therefore I don't get to hang out with my friends much, rowing has been super beneficial to my life."
While Dixon is preparing for upcoming tournaments, she practices most days of the week at Lake Woodlands. According to Dixon, rowing preparation is intense and demanding, yet helpful.
"Rowing involves thorough preparation and exercise, consisting of running, planks, squats and lunges are all apart of training," Dixon said. "Teamwork also plays a big part in the sport."
"I've known Cateri for about a year and I would say she's extremely beneficial to the team," teammate Anna Pineda said. "She remains optimistic about everything, she's one of the most encouraging teammate I have ever met, and overall a great person and an even greater rower."
Dixon said she plans to continue rowing in the future
"I know a lot about rowing and probably won't stop until I'm too weak to do it anymore," Dixon said. "Maybe in the future when I have more experience under my belt, I'll even try out in the Olympics."