Stop in the name of Kamden
Kamden Richardson is someone you have definitely seen on your way to class after breakfast. Richardson, a Klein Collins sophomore, better known as "The Stop Light Guy" has definitely made his mark on campus by spending his mornings directing "traffic" in the commons. 
"Kamden has a heart of gold. He's a very intelligent young man. He would give you the shirt off his back. I feel blessed to have a student like him. He's a model student," Brent Spurlock, Richardson's Special Education teacher said.
Richardson has a love for car dashboards. The light that comes off them has always fascinated him. This love for dashboards is what inspired him to start on his own stop light. The contraption works by shining a flashlight behind a piece of colored paper which lights up the sign. 
"He's had that stop light for a couple years now, he's modified that thing in every way possible, he has so many unique talents and gifts," Spurlock said
Richardson has dedicated himself to the task and is out by the cafeteria to make sure everyone gets to class in an orderly fashion  and even gets to school at 6:00 AM every morning to direct KC 's local foot traffic. 
"I started the stop light project one random weekend in my freshman year and have done it ever since. It's fun for me," Richardson said.
Richardson's habit has made him known around campus and he has so many other unique interests, including dance, band classes at KC and has been interested in voice acting with help from Spurlock. 
While the dance classes started out for credit, Richardson quickly realized how much he enjoyed dance and music. He has been playing the baritone since the 6th grade, which required 5 years of dedication and hard work, definitely not a small task.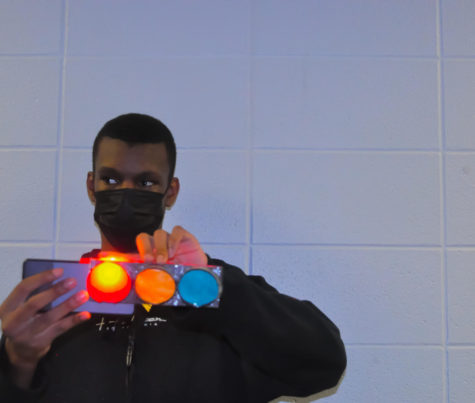 Richardson is a kind person who is always around to support his friends and classmates. While he seems shy and reserved, he's a social butterfly as soon as he's in class with his friends. 
"When we were in Schindewolf he came to me when I didn't have any friends. He's a really nice guy," Bobby Hohertz, Richardson's friend and classmate, said. 
Richardson has touched the lives of everyone he meets, on campus and in his personal life. He is an all around great guy with outstanding potential in many different fields with so much time to cultivate his talents. There is no doubt in my mind that Richardson will do something amazing with his life.