Shiny additions
Band receives new instruments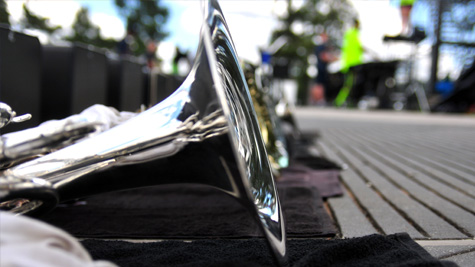 This fall, the marching band received new marching mellophones for the french horn and euphonium sections. These new additions can be seen at half on the football field this season.
Band director Christopher Rugila said that while it took four to six months to obtain the new instruments, the quality and look are fantastic.
"Visually, they'll match with the other new instruments we got last year," Rugila said. "We started ordering them last spring and received them this summer, thanks to the fine arts department and financing the cost."
The instruments are a trustworthy brand and should hold up for a while according to Rugila.
"I'm comfortable with the brand that we have," Rugila said. "All that needs to be taken care of is keeping them clean and taking care of them. But besides that, I don't think there's anything to worry about."
Students handling the new mellophones are required to wear gloves to keep the instruments in good condition according to sophomore Jordan Harte.
"Although we aren't allowed to touch them with our bare hands, these silver babies are amazing to play with," Harte said. "They play and look better than the mellophones from last year."
Despite the benefits that came with new instruments, senior Maxwell Wittorp said some drawbacks exist.
"I like how they look and the way they sound, however they are pretty heavy," Wittorp said. "At the end of shows they're really hard to hold up."
According to Wittorp, the new instruments are better than the instruments he used in the previous years.
"They make a much nicer sound and they're a lot easier to play loudly on," Wittorp said. "The instruments add a much clearer sound to the band because they face the front so sound goes straight to the audience."
The new mellophones may improve the band's appearance, but ultimately the musicians are responsible for making the instrument appealing in sound as well according to sophomore Gideon Ferow.
"Getting a new instrument doesn't automatically make the band better," Ferow said. "It still depends on the person and the effort they put into practicing."