Staff, Students Driven to Help
Food drive fills stomachs of students, families in need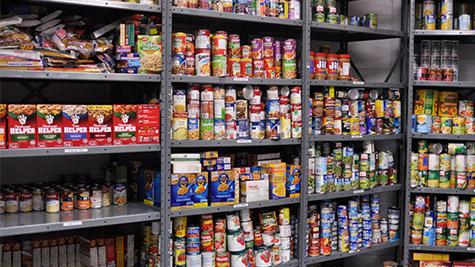 Students and administration prepared the food drive for students in need for the ninth Thanksgiving and Christmas holiday season since the drive's creation.
According to Donna Schultz, the assistant principal secretary who created the food drive, success has increased over the years.
"We have grown from being in the cabinets in the front office to filling classrooms with food," Schultz said. "We've grown from helping 10 families to 50 to 60 families. We help out whenever there is a need."
Schultz created the food drive to help students in need eight years ago. There are no requirements for donation. Senior Hope Burkhalter, vice president of the food drive, said that the inspiration for creating the food drive is the families in need.
"There are about 60 families at Klein Collins that go without food for the holidays every year," Burkhalter said. "Because of the food drive, the families get to come in and grab around three boxes of food for free."
Schultz said that when speaking of the success the food drive has experienced, the community needs to be mentioned.
"Last year we needed turkeys, and within an hour or less, 25 frozen turkeys ended up on our front steps," Schultz said. "Service First also donated 10 turkeys and 10 hams."
Sophomore Seth Lieder, who donated to the food drive this year, said that donating was a privilege.
"Taking part in the Klein Collins food pantry was a great experience," Lieder said. "We all have so much to be thankful for, so why not give some of those things to people who don't, to help make someone's day that much better?"
Schultz said that she attributes the success of the food drive to the help of the school as well as the community.
"Every single organization and group at this school kicked in," Schultz said. "When there is a need, the Klein Collins family opens their arms and helps without even being asked."