Pumped Up Kicks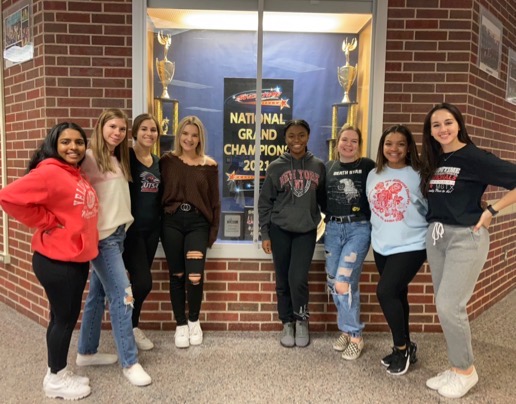 Klein Collins consists of many different types of sports, some being contact or non-contact, as well as different types of dance platforms like cheer, color guard, and drill team. The award-winning Tiger Belles have practiced in small areas over the years, and are getting treated to a dance studio built specifically for them.  
The Klein Collins Tiger Belles have been led by Olivia Thompson since the 2018 school year.
"This is my 4th year coaching. Lucky for me all 4 of my coaching years have been here at Collins. I went to a Performing Arts High School where I was able to focus all of my studies on Dance and Musical Theatre. Immediately following, I went to Kilgore College and was a World Famous Kilgore College Rangerette for 2 years. After Kilgore, I went on to Stephen F. Austin to be a part of their dance team and get my degree in Dance Choreography. I also was a part of the repertory company and an organization called Dancers Against Cancer. At the end of my senior year of college, I tried out to be a cheerleader for the Houston Texans and made it. I was an NFL Cheerleader for two years while I was a teacher and director here at Collins," Thompson said.
The Tiger Belles are best known for last year's accomplishment of becoming Grand National Champions. In addition, Tiger Belles have many other titles.
"The past two years, the Tiger Belles have won 4 State Titles and 3 National Titles," Thompson said. "I feel like when I watch the girls perform, I get more nervous than when I performed as a dancer. We knew that Nationals were coming and we had already won 2 state titles, so the memory and steps were perfected. The week we went to Nationals, I tried to really create a bond with those girls. I wanted them to be connected on and off of the floor. We all had a day where we got to talk about why we danced, and why we were there still after all of the hard times. This brought the team closer together and I believe is one of the reasons we won. When you have a group of dancers that are connected off of the floor, they are next to perfect on the floor."
Sophomore Emilia Coraspe is excited for future seasons. This is her second season with the Tiger Belles and has already thought ahead to what the team will be like in the upcoming years.
"I really enjoy being on the team, and I'm still deciding to see where I can go with it. I also want to focus on my career," Coraspe said.
Coraspe was fortunate to be a part of the team during Nationals and shared a memory from the experience. 
"My favorite memory was probably going to Nationals because that was the first time I actually got to bond more throughout the whole day," Coraspe said. "When we got to Galveston, we got to go to the beach and take pictures, but most importantly, becoming National Champions was fun too."
Furthermore, Coraspe talked about the current area they use for practice. 
"Right now for a dance show, we're practicing in the auditorium as much as we can," Coraspe said. "But we usually practice in the ballroom for contests, then we practice in the gym. And we used to practice in the Commons but not anymore."
Seniors Belles Germonie Jones and Sofia Montejano remember fondly when they wanted to be a part of the organization.
"I joined in April of 2018. I joined because my sister was a Tiger Belle, so I pretty much wanted to follow in her footsteps," Jones said. 
Montejano was new to the campus and was looking for a group to belong to where she felt at home. 
"I moved to Klein Collins just before the start of my junior year and tried out and made the team in the spring semester," Montejo said. "I thought it looked fun to be on a team with them and I like performing so it was fun to receive the opportunities to learn, practice, and perform a new talent."
Although they joined at different times, they can still recall funny moments in the organization.
"Last year, during contest season, we got these snack boxes and they had Cheez-Its in them," Jones said. "So I went around the whole entire room and I was asking everyone for the Cheez-Its to give to me and I ended up going home with many bags. It was a favorite of mine because I ended up getting closer with other girls, and every time we had snacks someone would bring up me asking for everyone's Cheez-its and we would all laugh about it."
Montejano shared a personal experience that was different from the norm.
 "The best memory I've had while being a Belle is when I got to perform with my dad on the football field for our "Bob and Sue" routine," Montejano said. "Mainly because it was a one-time event and it was definitely out of the ordinary to have a non-team member come and dance with us. It was fun, to say the least, because it was a new experience teaching someone new."
Since Jones and Montejano are graduating this year, they are excited for future Belles to receive the opportunity to practice in their own dance studio.
"We currently practice in our Belle room and occasionally in the auditorium," Montejano said. "For football season, we have many 6 a.m. practices on the football field and as we go into the season we occasionally use other rooms like the gym. It would be nice to know future Belles could have their own studio instead of moving around to find big enough spaces for practices."