Preparing for Fools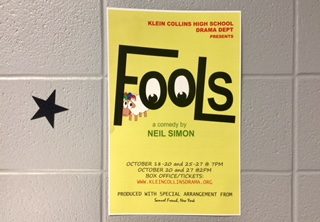 The drama department is preparing to host their first play of the year, "Fools."
"Fools is a play that I believe can be enjoyed by people of all ages," sophomore Christopher Freitas said. "There are a few jokes that our adult audiences will appreciate, as well as plenty of jokes for kids."
According to Savannah Bryan, spending time going over lines isn't enough. You need to get into the headspace of your character and really understand how he or she feels as well as learn to speak in the accent of your character.
"A great deal of work goes into preparing for a play," theater teacher Robin Welch-Wood said. "We started last school year by researching and finding a play that we thought would be a fit for our actors, technicians and our audience. Over the summer, we worked on designs for the show and began preparing those for our "building" process even before school started. The show was cast during the second week of school. We immediately starting rehearsing and have been building sets, making props and costumes, hanging lights and working on our publicity since then as well."
According to Freitas, the play is about a school teacher who lives in a village with dimwits.
"I do not wish to give away the plot," theater teacher Norman Grueneich said. "What I will tell you is the play is about a little Russian village that has an old curse on it.  All those who dwell within the town will be stupid forever, unless a young bright schoolmaster can find a way to break the ancient curse."
According to junior Colin Jungman, it will be interesting to see all the first time viewers react to the performance.
"I expect the show to turn out really well," Bryan said. "I am hoping that everyone will enjoy seeing this story come to life on stage."
People of all ages and especially families should see the play, according to Bryan.
"No one must come to see the play…" Welch-Wood said. "But we hope that everyone will want to come see it after seeing our previews the day before we open the show."