Haunted Halloween Road Trip
An immersive look at the darker side of Texas history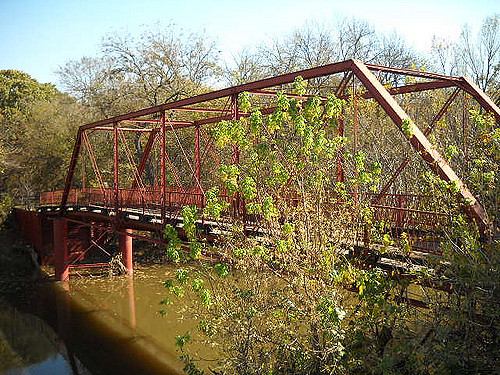 Texas is known for its rich history, but this memorable state has more than a few darker legends and stories in its checkered past that would be a thrill to see in action, a perfect theme for a weekend road trip or a night time ghost hunt.
For the road map to this trip: https://goo.gl/maps/jwceg4sRnLM2
Old Alton Bridge (Denton)
Dubbed the "Goatman's Bridge," Old Alton Bridge has had strange occurrences ever since the lynching and murder of Oscar Washburn, locally known as the "Goatman." The nickname came from him and his family raising goats and making goat products. Oscar Washburn was also a African-American man, and due to the racial climate in 1938, was dragged out of his house by the Klu Klux Klan and thrown off of Old Alton Bridge. When the members looked down to see what was left, there was nothing but the rope. Sightings of the strange and elusive Goatman have happened ever since.
Victoria's Black Swan Inn (San Antonio)
Victoria's Black Swan Inn's ghost stories come from "Romeo and Juliet" esque stories that take place early in the land's history. First, it was turned into a dairy farm by immigrant Heinrich Mahler and his family. Shortly after the buy, Mahler's wife passed away and he followed two years later. The land was bought by another two families until it was bought by Jolene Woods and Hall "Park" Street. Woods was taken by cancer, and it took a heavy toll on Park, who hung himself a short while after. Visitors of Victoria's Black Swan Inn say that Park and Jolene still wander the halls looking for one another.
The Jefferson Hotel (Jefferson)
The Jefferson Hotel dates back to old town Jefferson in the 1800s, but it hasn't always been a hotel. The property has gone through many different phases, from cotton warehouse to a dance hall. The main ghost story goes as follows: in 1912, a woman named Lydia Grigsby was left at the altar and hung herself from the bedpost in Room 19. Two other ghosts that can be found in the halls of the Jefferson are a little girl known as Sarah and a man they refer to as "The Captain." Not much is known about either of the ghosts, but they are just trapped at the hotel. Some of the other ghosts are not as friendly, as hotel members have reported people sleeping in the lobby, too scared of their own room.
Old Town Spring (Spring)
Hailed as the Haunted Capital of Texas, this ghost hotspot is a little too close to home. Brought to light as a haunted hotspot by a book written by Cathy Nance, any permanent resident or shop owner of Old Town Spring can tell you the horror stories of the area. Particularly haunted areas are Ellen's Cafe, which is haunted by a tea-loving railroad worker whose name is reported to be Henry. This is one of the many fun ghosts who inhabit the old worker's town that has turned into a quaint look into the past.
Elder Street Artist Lofts (Jefferson Davis Hospital) (Houston)
Built on top of a confederate soldier cemetery, Jefferson Davis Hospital is known to be haunted by the ghosts of confederate soldiers. In addition to this, victims of the yellow fever were taken care of while the space was a hospital. It recently got turned into loft apartments where residents still report shadowy figures and smells of a hospital, which include sterilization chemicals and death.