Idaho Needs Baseball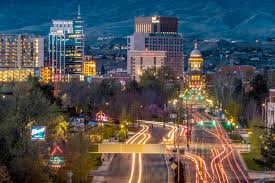 Idaho is a beautiful part of the country that needs to be exposed to the wonders of the baseball world. In recent years, the population has slowly grown in the state capital Boise, Idaho, and I think that would be a great place to settle the next franchise of Major League baseball.
The MLB commissioner Rob Manfred has considered the expansion of another team to the league. As of current, there is no major sports team competing in the NFL, NHL, MLS, NBA, or MLB in Idaho. It would be a great decision for the MLB to make a move first, and gather all of the fans in that area, since they are currently either rooting for no sports team, or for another sport in a bordering state. This endeavor could really pay off in profits, especially if they beat the other leagues to the "punch." Think about how much merchandise can be sold when there is only one Major sport in 500 miles; it is a really good investment. The weather in Boise during the months of baseball season is just like anywhere else: high of 90s low of 50s, which makes for beautiful field conditions for players and fans as well.
Since one of the more populated cities in Idaho is Boise, a good team name could be the Boise Bobcats. Their primary color could be light blue/ baby blue and their secondary colors could be white and black.
This is a great opportunity for the MLB to jump on because who wouldn't love to see a new team enter the league?