Moxie! A Film for Feminists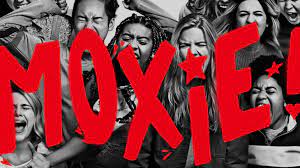 The 2021 Netflix Original Movie Moxie was released on March 3 of this year. The upbeat coming-of-age film highlights the importance of love, femininity, family and friendships. In the movie, Moxie is a feminist group at Arcadia high school and the main character, junior Jessica Mills, is it's anonymous creator. The creation of the club at her incredibly sexist high school brings together a group of young women who work to empower each other and shed light on the injustices that take place within their school walls. Though sometimes awkward and predictable, this movie can bring viewers to tears and fill them with laughter all while sending an extremely valuable message to young women and girls. 
The movie Moxie is about a shy 16 year old girl named Vivian who anonymously starts a feminist movement that ignites a revolution of sorts within her school. WIth this movement, Vivian builds strong new friendships, falls in love, and creates a safe haven for all of the young girls at Arcadia High School. 
Moxie has all of the coming-of-age cliches you'd usually expect in a movie about teenagers played by adults. The new girl, the mean jock, the awkward main character who learns to come out of their shell, and the fearless leader were all key elements of the movie. Though the acting from the Moxie cast was good, some scenes were hard to watch without cringing. There was a frustrating amount of unnecessary turmoil thrown into the plot in order to grasp viewers' attention, but in the end I just became fed up with the lack of communication amongst the characters. Because the movie was so cliche, I could see the plot-twists and happy-go-lucky ending from a mile away. Despite this, the movie is still extremely light-hearted, sweet and extremely diverse. 
The movie had a plethora of different characters with different backgrounds. There were asian and afro-latino representation as well as two lesbian characters and a transgender actress named Josie Totah. I appreciate the diversity that Moxie showcased;  a perfect example of women, though different in many ways, coming together to form an empowering alliance that would end up taking over the entire school. 
Overall, Moxie is a movie that I recommend to high school girls who don't mind slightly overused and trite plotlines. This movie preaches the importance of togetherness and fluidity amongst young women in order to effectively retaliate against the patriarchy. Moxie is a movie that inspires others to make a difference and encourages viewers to be the change in their communities.