"Whole Lotta Red" Album Review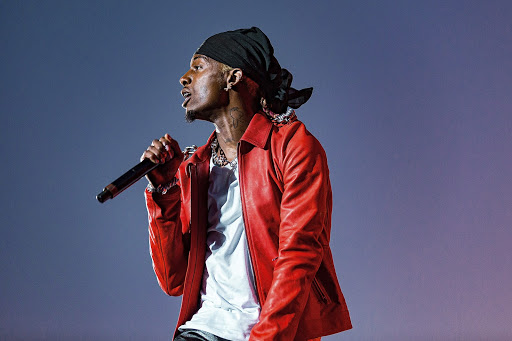 Introduction
After Playboi Carti's newest album "Whole Lotta Red" dropped on Christmas day last year, the 24 year old rapper from Atlanta received a 'whole lotta' backlash compared to the massive cult-following his debut album "Die Lit" had.
Jordan Terrell Carter was born September 13, 1996 in Atlanta, Georgia. He began rapping in the year of 2011 under the name 'Sir Cartier' before changing it to Playboi Carti in 2017. In the same year, his album called "Die Lit" reached number 12 on the Billboard 200 and gained recognition from various music publication companies. Around this time, he became well-known for his gothic fashion, mumbled lyrics, unsettling persona and experimental style of music.
Despite the hate and plethora of memes that were created on behalf of "Whole Lotta Red" the album still managed to become the first number one album on the Billboard 200 chart for the year of 2021. With this being said, it is obvious that there are conflicting opinions on the quality of this album compared to Carti's previous hits.
Background of Whole Lotta Red
"Whole Lotta Red" has been teased since April 2018. Carti submitted his first draft for the album in 2019 to his label Interscope Records, who later denied the first draft. Interscope wanted Carti to experiment more with his "baby-esque" voice, songs like "Flatbed Freestyle" have Carti's trademarked baby-esque voice. Problem is, Carti wanted to make songs more like "Die Lit" with more focus on ad-libs and catchy hooks rather than changing up his voice. This became a problem with Carti and Interscope.
As time passed by, Carti decided to experiment with his voice more and got comfortable with the idea of it and started recording a lot of songs. He began working on a new draft of the album with long-time collaborator Pierre Bourne, along with other producers such as JetsonMade, Richie Souf, (former collaborator since 2015) Ethereal, and F1lthy.
The problem is, Carti would send back verses and unfinished drafts via email, MEGA links, and other file sharing websites. With this in mind, hackers would discover Cart's music on these sites and leak them onto SoundCloud and YouTube. Not to mention JetsonMade was caught selling Carti songs that he produced online to teenagers and Carti fans. Over a total of 70 tracks were leaked from the time "Die Lit" was released to the official release of Whole Lotta Red. This caused outrage with Carti and his label, forcing him to re-do the album a second time.
Even with the album released, there are claims from certain producers that Interscope rushed the release of the album and left out a lot of material that was supposed to be on the album. Producer Richie Souf, who has produced for artists such as Future, Gunna, and A Boogie Wit Da Hoodie, says that he worked on the album for months with Carti in the studio. Sadly, no credentials for Richie Souf were on the album. It is rumored that the label is responsible for this, but no one knows the reason other than speculations of sample clearances, or the label didn't enjoy the material on the album.
Evolving His Sound
Maxwell Grady
"Whole Lotta Red" is not for everyone. I didn't even like it the first listen; it was hard to digest the new stylistic shift after a majority of his fanbase was used to the ad-lib dominance that was present in "Die Lit." But when it clicks, it's worth it. The album contains 24 tracks with the first half of the album containing his newly coined "vampire aesthetic".  The other half contains tracks blended with his new aesthetic while still maintaining components of his old sound. The mix of the two surprisingly is an effective strategy. It shows that Carti is experimenting with new sounds while also paying homage to what got him big in the first place.
The album starts off with Rockstar Made. A pulsating beat that has glaring 808's to overall set the tone of what the album sounds like. M3tamorphosis is a standout track that features Carti skewing intangible yet effective ad-libs over Kid Cudi's humming. New Tank is one of the best off the album; Carti raps over a menacing punk-inspired beat. The lyrics are repetitive, but the tone of his voice makes it practically ear candy.
Other standouts from the first half include Go2DaMoon featuring Kanye West, Stop Breathing which has a great industrial trap beat, Vamp Anthem which samples Johann Sebastian Bach's "Toccata and Fugue in D Minor", and Teen X: A bop/tread influenced tune with infectious vocal appearances from Carti and Future.
The two main aspects which make "Whole Lotta Red" so enjoyable is its consistency and its variety. Carti manages to change up his sound in the first half, trying out new styles. Yet in the second half of Whole Lotta Red, he branches off the "vampire aesthetic" and goes back to his old sound while simultaneously adding in new elements to his discography.
"New N30n," one of the 70 leaked tracks for Whole Lotta Red, is featured on the album and appears with a new verse recorded that's different from the leaks. Place is another leak that's on the album with an infectious cloudy trap beat with a random yet methodical pause. Sky features Carti with a nice flow and a beat that sounds like it came out of a video game. Over has a nice synth riff that reminded fans of "Long Time" – Intro off of his debut album "Die Lit."  "F33l Lik3 Dying" might be the most solid song off of this side. Carti is self-reflective as ever with lyrics about relationship struggles and his mental health. The song has a Bon Iver vocal sample that adds an unexpected yet welcoming soul flare.
In conclusion,  "Whole Lotta Red" could be argued as holding the throne as one of the worst album rollouts of all time due to it filled with leaks, poor label management and rushed deadlines. In the end, it shows why Playboi Carti is going to be here for awhile. Carti was bold enough to change his sound for his own label. Although the reception from fans have been mixed because it's not the ad-libbed filled Die Lit that fans wanted, fans have already said it's growing on them. And I believe Carti can learn from his mistakes. Whole Lotta Red is not Carti's best project, but it's a reminder that he can do a lot more than just do ad-libs like he's usually known for.
'Whole Lotta Garbage' 
Kennedy Roberts
Carti's newest album has received a lot of attention and more hate than he seems to be used to. In one recent Instagram live he can be seen bopping his head and reciting the lyrics to one of his latest tracks before reading some nasty hate comments. He became visibly upset with the criticism he was receiving and ended the livestream.
 The backlash "Whole Lotta Red" has been receiving stems from the fact that the album was quite obviously thrown together last minute, and there are plenty of theories as to why that is. Overall, Playboi Carti is a good artist who tried to experiment with a new aesthetic and failed. It's a possibility that his songs being leaked had something to do with the quality of the album, but I doubt it. 
Though it sounds as if Carti's die-hard fans could come up with millions of excuses as to why this album was as horrible as it was, I have to be brutally honest… This may have been one of the worst albums I have ever listened to in my life. Out of the entire 24 track album, there were only around three songs that didn't make me feel like I was in the middle of having a stroke. The lyrics are repetitive– even more so than normal– and in some tracks, his incomprehensible "rapping" doesn't even flow with the song.The lyrics of the album have no actual depth and the beats aren't rhythmic while Carti's voice is anything but melancholic. In fact, the songs are so unorganized that I feel slightly uncomfortable when I listen to them.
I understand that Playboi Carti focuses more on beats and adlibs than the lyrical portions of his music, but this album just sounded like a cacophony of noise that I simply cannot get myself to overlook. His music in the past has been exceptional with beats that I can dance to and catchy lyrics that I can play on repeat for hours, but this time, I didn't add a single song from "Whole Lotta Red" to my playlist.
I don't think Carti is a bad artist, in fact I listen to some of his older songs daily, but I will say that I am very disappointed with the outcome of this album that his fans have been anticipating for nearly two years.  Despite my disdain for "Whole Lotta Red," I am confident that Playboi Carti is still a great rapper and the music he drops next will outshine all of his other work.