Dia De Los Muertos
Dia de Los Muertos is a Mexican holiday all about welcoming back the souls of loved ones who have passed on. It lasts two nights starting the day after Halloween when souls can temporarily pass back to the land of the living. 
November 1, Dia De Los Inocentes, is the day for children to rejoin their families, while Nov. 2 is the day for the adults to pass over. These two days are a celebration of life at it's finest. The traditions date back 3,000 years with the Aztecs, Toltec and Nahua people who did not believe in mourning death, celebrations being the proper way to honor a life. 
There are countless ways to celebrate this holiday. A more common one being making Ofrendas- offerings in the form of altars decorated with pictures of the person you are honoring with their favorite item as well as papel picado and Marigolds which isn't only used for the holiday but is used to decorate ofrendas a symbolize how fragile life is. These are traditionally placed somewhere special in your house or at your family members gravesite. 
These offerings help the souls cross back to the land of the living. Some believe that if your family does not make you an Ofrenda you will not have anything to bring you back to your family on the day of the dead, as some see these altars as homing beacons to guide spirits back home. 
During this time, everyone participating in the fun dresses up like skeletons with fully painted skulls on their face. Some even dress up as the Calavera Catrina, a drawing created by a Mexican political cartoon artist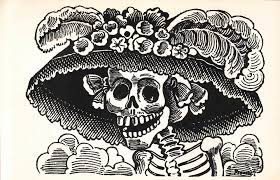 in the early 20th century, is a staple for the holiday. The drawing shows a skeleton in a fancy traditional dress that symbolizes an elegant rich woman, with the text "Todos somos calaveras," which translates to we are all skeletons. The Calavera Catrina has become one of the most popular symbols for the celebrations.
Dia de Los Muertos consists of beautiful parades, dances and performances in the street all hours of the day and night. While every family may celebrate the holiday differently, Dia de los muertos is a beautiful holiday packed with culture, fun, and family.