Encanto: Disney's Newest Animated Hit
We may not talk about Bruno but Disney's new animated film Encanto has everyone talking. Encanto is an animated film released by Disney on November 24, 2021. It is a film about a magical family. Each member is gifted with magical powers except for one, it is a tale of resilience and triumph. The movie keeps fans dancing and singing along to the hit songs it includes such as, We Don't talk about Bruno and, Surface Pressure.
Encanto has recently become popular on TikTok with many people making videos including the songs from the movie. We Don't talk about Bruno, has become the most popular song from the movie, it is currently sitting at #1 on the billboard top 100 charts. The song has also passed Frozen's, Let it go as the most-streamed Disney animated movie song, the song has racked up over 100 million streams. 
Many people enjoy this movie because for the first time they are seeing characters that look like them. Luisa has broad shoulders and big mussels which isn't usually showcased in movies, so when Maribel Martinez (pictured below) saw Luisa it made her very excited. She took to TikTok to show the internet their resemblance. I think that is one of the reasons that many people have enjoyed the movie so much, the diversity that is showcased throughout the film.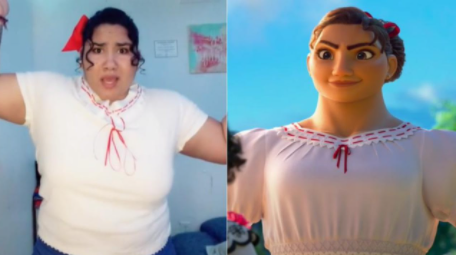 Overall, I recommend Encanto to people of all ages, it is a very good movie. The storyline is good, it is full of feel-good music that showcases Colombian instruments. It is a movie that anyone can enjoy and people will not get tired of. I constantly have We don't talk about Bruno, stuck in my head, it is a great movie and definitely deserves the hype that surrounds it.