Carlos Correa: A Houston Star on and off the Field
Correa is one of the top shortstops in baseball, known for making flashy plays and getting clutch hits. While the rest of the baseball world sees him for his plays, Houston fans see him for the impact he's made around the community.
Carlos Correa was drafted number one in the 2012 Major League Baseball draft. Being drafted as number one, the organization as well as the fans had high hopes for their young Puerto Rican star. Correa exceeded all expectations during his rookie season in 2015, winning rookie of the year and leading the Astros to their first playoff appearance since 2005.
Over Correa's 7-year career, he has 781 hits, 162 doubles, and a career average of .277. After making a first-round exit in 2015 and not making the playoffs in 2016, the Astros were looking to make a comeback in 2017.
After the tragedy of Hurricane Harvey struck the city of Houston, Correa leaped into action partnering with "A Better Night Sleep Program" donating 500 mattresses to kids who lost theirs in the flood. He also helped the Astros win their first World Series Championship. When Houston was struck with a historic freeze in February 2021 Correa leaped into action with help from teammate Jose Altuve and provided 25,000 meals for children in need.
As the 2021 season began, many people wondered if this would be the last season they saw Carlos in Astros blue and orange since at the end of this season he becomes a free agent. Free agency occurs after a player has played in the league for six or more years and is not bound to a contract, during this time the player can sign with any team that offers them a contract. It won't be easy to keep him on the team as his hitting and his elite fielding will be getting him a large contract. Fans are hoping that with the loss of the large contracts of Justin Verlander and Zach Greinke, the Astros will give him his check. One die-hard Astros fan even created a Go Fund Me to help the Astros bring him back.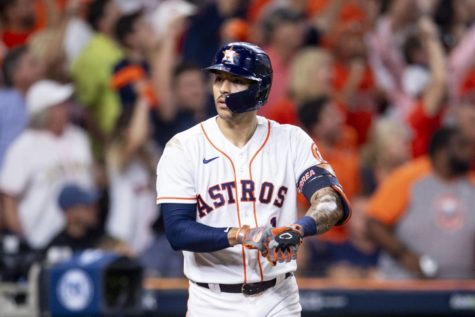 It was a season full of highs and lows for the team and Correa, but the fans can't help but hope Correa will stay with the Astros and try to create a dynasty. Whether he stays or goes, Carlos Correa has carved his name into Astros history as one of the best shortstops to play for the team and will remain in the fans' hearts forever.