Q & A: Assistant Principal Kristen Brady talks positivity and the importance of relationships amidst pandemic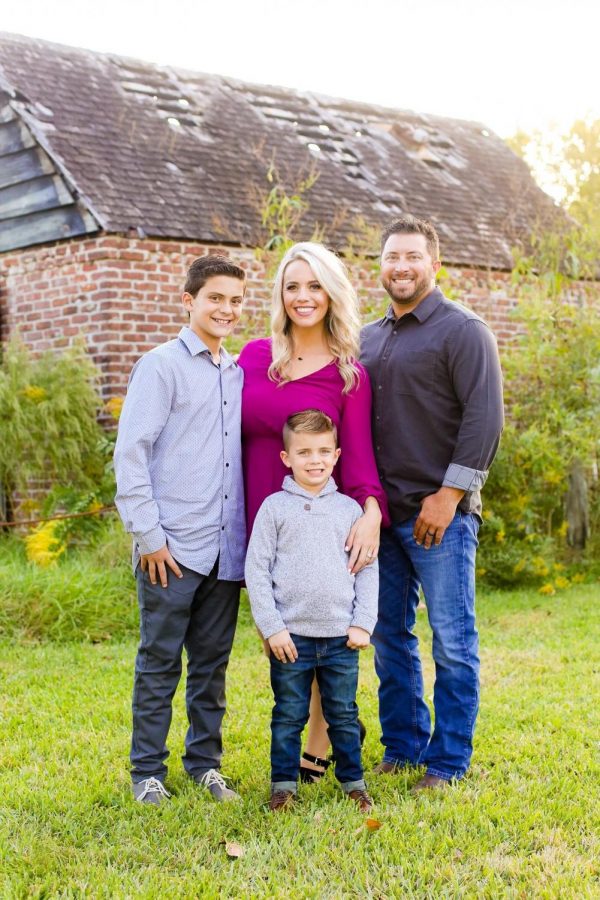 Legacy Press (LP):  What is your role at Klein Collins, and how has it changed over time?
Kristen Brady (KB):  My main responsibilities as an Assistant Principal at Klein Collins High School include being an instructional leader, student-centered and a forever learner.  In my role at Klein Collins, I am student-focused, and I work diligently to ensure that our students and staff maximize their potential and reach their goals. I am most proud of my relationship-driven leadership. As an Assistant Principal here at Klein Collins, I pursue authentic and positive relationships with our staff, students, students' families and the community. 
LP:  How do you spend your free time?
KB:  My free time is spent with my family.  I am a proud wife to my husband Ross and an incredibly blessed mom to two amazing boys: JD and Jace.  Most of our days start and end at a sporting event for one or both of the kids, and we would not have it any other way.  In our free time, we like to travel and spend time with our incredible circle of friends!
LP:  What are the most rewarding and challenging parts of your job?
KB:  The most rewarding part of my job is building positive relationships with the students and the staff. I enjoy mentoring our students and being supportive of our amazing staff.
The most challenging (and fun) part of my job is balancing all of the ever-changing dynamics of each school day. Each day presents challenges and opportunities to grow as a leader.  Being an Assistant Principal is very rewarding, and it presents something new and exciting every single day.
LP:  What inspired you to work in education?
KB:  When I was young, I was blessed with incredible teachers who inspired me to work in education.  Starting in kindergarten, I was blessed with a teacher who forever impacted my love for learning.  From that point forward, I knew that I wanted to positively impact others, lead by example and be a role model for the youth.  I started teaching right after college, and my love for education grew from there.  Through that experience, I was called into the world of counseling with a goal of being more connected to my students, and to facilitate their educational and social/emotional growth.  I transitioned into counseling, and I spent ten years as a counselor before transitioning into administration. I am now blessed with the opportunity of being an administrator at Klein Collins, and I am fortunate to be able to continue working as a passionate leader in the best high school in Texas!
LP:  What is your educational background?
KB:  I have a Bachelor's Degree in Liberal Studies with a minor in English. When I was in the classroom, I taught 8th, 10th and 11th grade English. I then pursued a Master's Degree in Education Counseling. Lastly, I went back to school to acquire my Administrator certification.
LP:  What do you most look forward to every school year?
KB:  Definitely the students.  I love to see the students grow into incredible young adults.  I love to watch them reach their goals and aspirations.  I love that part of my job – seeing all the amazing things that you guys do every single day.  Also, I really look forward to working with our incredible faculty and staff.  I am blessed to be a part of what happens in the classrooms with our teachers.  Our team is superb and I'm really, really blessed to get to work with them every day.
LP:  What are some ways that you like to connect with students and staff at the school?
KB:  Relationships! One of the things that I'm most proud of is my ability to build relationships with others.  I am intentional in making sure that the kids know that I care, and that the teachers know that I will always support them. 
LP:  What distinguishes Klein Collins from the other Klein campuses, and what do you do to contribute to that?
KB:  Klein Collins is a family.  From the moment you walk through the doors, you feel it in the culture we have built here.  We have very high expectations and share the campus vision of "Excellence without Compromise."  We are passionate about one another, hold each other accountable, and we help each other to grow.  We uphold excellence and we support each other in reaching our goals.  Klein Collins is an amazing community and a really big family, and I love being a part of it.
LP:  What is something that you have learned from this pandemic experience that you will take with you post-pandemic?
KB:  I've learned to be more intentional with everything I do, including spending quality time with people.  During the shutdown, we had more time to evaluate our daily interactions, reflect on appreciating the small moments in life, and to slow down just a bit.  I've learned a whole lot more about myself.  I've grown as an individual. Moving forward, I see things a little differently.  Our world has changed so much, but as a community and as individuals, we are resilient.  We continued to move forward, adapted to the "new normal" and worked hard to support each other.  I am hopeful and excited for a very positive "new normal" that is to come.  
LP:  Are there other things about you, your role, your passion, your observations, etc. that you want our KC community to know more about?
KB:  I think the biggest thing I want people to know is that my goal is to start every day with a smile.  I hope that my smile and positive attitude is infectious toward others, and facilitates an enriching environment for all.  I will focus on being grateful for each new day, will empower and encourage our students and staff through all opportunities, and I will maintain a joyful and optimistic attitude every day.