Teacher Spotlight: Jill Thompson
For Environmental Science teacher Jill Thompson, teaching is more than just a career. It is a passion. Thompson educates others about environmental issues and local, national, and global geographic phenomena. She teaches both environmental science and environmental systems at Klein Collins.
Thompson delights in learning about the ecological intricacies of our planet through extensive traveling around the country and the world. She has been a teacher for nine years that includes her time in the Klein Independent School District and other educational institutions, including Aldine I.S.D. in Houston as well as international schools in South Korea and India.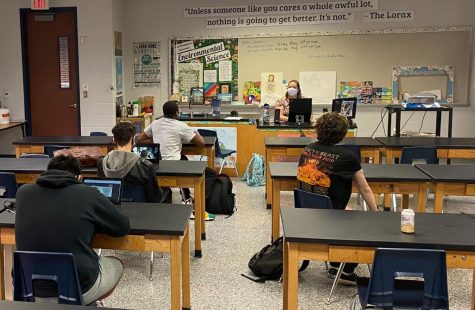 Jill Thompson is teaching both online and socially distanced in-person students in her Environmental Science classroom.
"Ms. Thompson is great at teaching. She makes her class very enjoyable and is passionate about what she does," junior Josh Skrehot said. "She is very considerate of her students and makes sure that her lectures and assignments are interactive."
Thompson encourages students to be the best versions of themselves holistically inside and outside of the classroom and nurtures their intellectual curiosities and compassion for the environment. She has sponsored a variety of clubs, including the Environmental Club, the Korean Club, the Filipino Students Association, the LGBTQ Club, and more.
"I really enjoy A.P. Environmental Science largely because of Miss Thompson's energetic and engaging classroom. She is an extremely fun teacher who establishes real connections with her students," junior Larson Crank said. 
Thompson relishes being a mentor to students and encourages them to succeed beyond high school walls by consistently offering resources to scholarships, summer programs, and educational competitions.
"My number one goal is to help and influence people. I try to raise awareness about the environment and help educate others about how to make the world a better place," Thompson said. "Teaching is not just my job. My life revolves around it."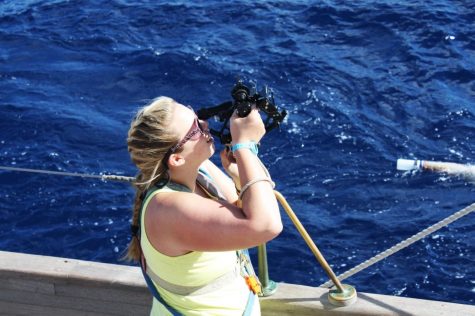 After this school year, Thompson will take a sabbatical to travel around the world. She plans to take a break from teaching as she marries her fiance, Cody Mireles, who also teaches at the school and focuses on spending time with him and her two dogs, Cuba and Streak.