Robotics Club Prepares for Competitions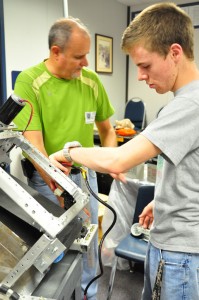 Robotics club, a district-wide club hosted by the school, will compete in the FIRST Robotics Competition on Mar. 29 in Dallas and Apr. 5 in Houston.
These competitions mark the second year the club has existed and the second FIRST competition the club has entered in that time.
"This year our competition is a game of basketball," club president senior Shahid Jivani said. "When we go to the competition we'll be teamed up with three teams from other schools chosen randomly. We decided to play offensively so we're going to be on one side of the court stopping the other team from scoring. The robot is going to drive around and pick up basketballs they missed and send them to the other side."
The team received their basketball challenge at the start of January. From then, they had six weeks to plan, build and test their creation.
"When they get the competition's challenge they have to decide on a design that's feasible, so that takes about a week for all the team members to decide on what they want the robot to do," club sponsor Sylvia Wood said.
"They'll draw up some designs and agree on what to use. Once that's decided they have to go and purchase the materials needed to put the robot together. After that they spend the rest of the time building the robot from the ground up, putting the frame together and putting in all the components and testing."
According to competition rules, the robot had to be completed and ready by Feb. 18.
"At the beginning of build season we met about once a week, which was a bad idea, we should have been meeting every day so that we could actually be on time," senior Conor Landry, a member from Klein High School said. "[Once we start building] it's about 4 hours a day, 20 hours a week. You have to become one with the robot."
Formed last year by a collaboration with Klein High's computer science teacher, the club competed at FRC's LogoMotion competition last summer. Since then the team has doubled in size.
"Since we actually have a working robot at the beginning of the year, it gave more people a reason to join since they saw the robot and thought, 'hey I can actually do this' so that helps attract members," Jivani said.
Through FRC, the club gained access to grants from Texas Workforce and JCPenney. The grant money was used to purchase building materials. The club also had mentors from Hewlett Packard to help with mechanics and engineering.
"They guided us onto the right track," senior Ricardo Noyola said. "We came up with our own ideas but if they saw that we were doing something wrong they'd correct us and offer their input on how to do stuff. Once they made us take everything out and put it all back together again. The day we finally got it up and running, it was driving and everything, that was really cool."
Founded in 1989, FRC hosts robotics competitions around the world. If the team wins at the regional competition in Dallas they will advance to the national competition on April 25 in St. Louis.