Tigers Return Amidst Coronavirus Pandemic
On Sept. 8, students at Klein Collins High School were welcomed back to classes amidst the Covid-19 pandemic with precautions throughout the school for a safe and successful start of the school year.  Students were given the choice between virtual and in person learning, depending on learning preference and comfort amidst the health crisis.
"The faculty and staff at Klein Collins are putting students as number one, providing the best education we can for the students," Klein Collins principal Randy Kirk said. "Every day is a learning experience, but we are in it together."
To make the transition back to school as smooth and successful as possible, students both online and in person are learning to take classes on the video application Zoom. With the new learning environment, schools have had to make a massive and sudden change from in person to virtual learning.  By now about half of all students are using the virtual platform, and growing. 
"Technology plays an extremely important role in our education this year, especially for online students," junior Anabella Gramling said. "In previous years, we have used technology in school, but this year we rely on it to make sure that everyone gets the information they need to be successful in school."
Online and in person learning vary greatly from each other, but students are given the same quality of education and the same assignments on both platforms. Staff and teachers are required to attend classes in person, with the resources available and with a hopeful attitude.
"We have a great staff at Klein Collins, and students as well," Geometry teacher Agatha Byars said. "Klein Collins really prepared the teachers this year. We had a whole week to practice all the technology before the students came."
On top of grading and their everyday responsibilities, teachers are required to wipe tables and chairs after each class, mandate no eating in classrooms, and help students behind masks in a socially distanced manner.
Students in person have to remain socially distanced at all times of the day, wear masks, and avoid congregating in halls and classrooms. In person students are also to avoid touching each other and to limit touching public items including hand railings.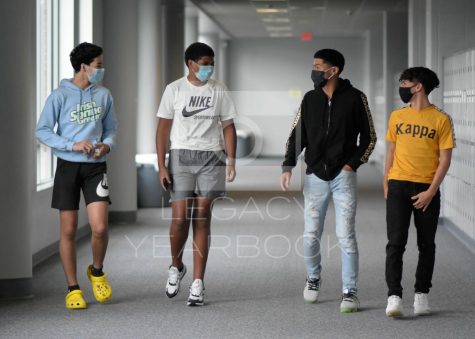 Students online are required to log into their Zoom classes daily and on time, and student attendance is closely monitored. Students are not required to turn on their cameras in every Zoom session. However, cameras are mandatory when students are taking tests. 
"Covid-19 has made me more grateful for when we could attend classes and interact with the teachers more," senior Fatima Assi, a student taking online classes, said. "The district is doing the right thing to enforce masks, social distancing, and allowing online classes."
Both online and in person learning comes with its pros and cons, but with attentive and caring staff at Klein Collins, the school provides ample support for both types of learning.