Beyond School Walls, This Man Embodies the Tiger Spirit
Before the sun rises and after the students go home, Henry Thaxton works with a smile on his face, believing in the larger impact of his everyday responsibilities. 
Surrounded by students and staff, Thaxton spends his days monitoring parking lots, helping students cross the street safely, and opening car doors during student drop-offs, but what many students know him best for goes beyond his traditional duties.
"I have known him since kindergarten. Mr. Thaxton has the most pure and beautiful heart of anyone I know," junior Sara Tatar said. "He has taught me so much about appreciating the little things in life and how we can take broken pieces and turn them into beautiful art."
 Even in a fast-paced, evolving school environment, Thaxton finds time to greet each student every day. He has been working within Klein I.S.D. for over a decade, starting at Kreinhop Elementary and Schindewolf Intermediate, and then at Klein Collins High School.
"Every day I get to interact with people: students, staff, and police officers – and that motivates me," said Thaxton. "You get to watch the students grow and then graduate, and that is the best part."
His duties require him to be outdoors for the majority of the day, making sure that all cars are safely monitored, the stadium is kept orderly, and the school is maintained and fully sanitized. Rain or shine, Thaxton works with a cheerful attitude from 6:30 a.m. to 3 p.m. helping the school in a multitude of ways.
"Seeing Mr. Thaxton is one of the highlights of my day. I am blessed to be able to see him every day," junior Anabella Gramling said. "Whether it be opening gates, closing them, monitoring cars or helping students in the morning, he always has an infectious smile on his face."
He works closely with the police department, making sure that all students and staff are safe and everything runs smoothly behind the scenes.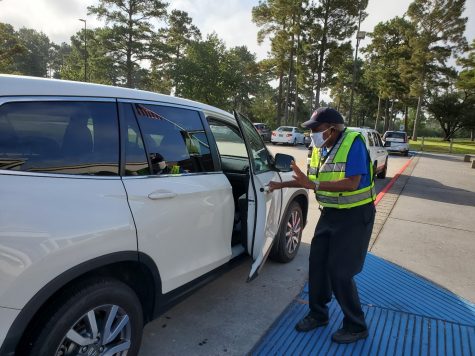 Outside of work, Thaxton continues to help others in his community and church.  His hobbies include playing the trumpet and spending time with his wife of 55 years, Estella. 
"My wife is my best friend and my rock," Thaxton said.
He and his minister wife love connecting with their two daughters and three grandchildren.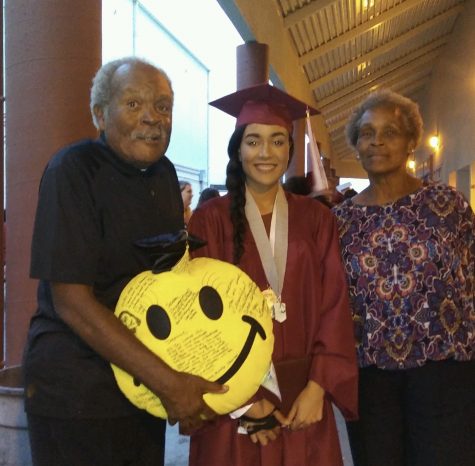 His work at Klein I.S.D has touched students and staff, and he plans to continue inspiring them for as long as he can. 
A parking lot may seem like an unlikely place for inspiration, but for many students, seeing Henry Thaxton is the highlight of their day.