For many students, National Hispanic Heritage Month is more than what meets the eye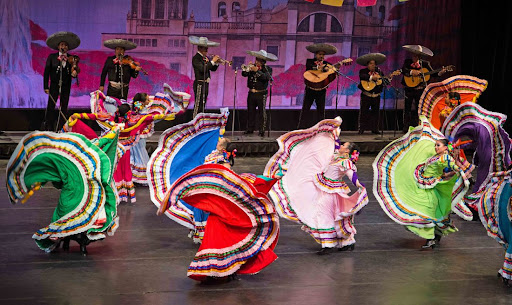 Sep. 15 marks a month of celebration for Hispanics in the United States. This month marks a period of festivities that include fiestas, gatherings, music, and festivals to celebrate the heritage, history, and culture of Hispanic Americans. National Hispanic Heritage Month is celebrated from Sep. 15 to Oct. 15.
"My favorite part of this month is that we as Mexicans are getting acknowledged. This month is really important to me because it gives me a chance to celebrate where I am from," freshman Jocelyn Vences said.
This month is a time to recognize and celebrate the people, traditions, achievements, influence, and contributions of Hispanic and Latino Americans. The observance of celebration for the Hispanic/Latino community of America first began in 1968 as Hispanic Heritage Week under President Lyndon Johnson, then expanded in 1988 under President Ronald Reagan.
Many Hispanics celebrate the month differently than others. Some celebrate it by having special family gatherings, while others spend the month in their home country, celebrating it on their ancestral land.
For freshman Grettel Lopez, her family puts up clip art in their home, similar to American snowflakes, and dresses in traditional clothing with her parents to relish their heritage, ancestors, and descendants.
For many, the month is enjoyed with its savory, cultural delicacies in the Hispanic culture, such as tamales, enchiladas, fajitas, and flan, among others.
Freshman Jocelyn Vences celebrates the month with her aunt and cousins, making tamales and other cultural delights.
Some great ways to celebrate the month with your family may include attending a festival or music workshops near you, attending mass, gathering with family, dressing in traditional clothing, baking traditional foods, or streaming the PALABRA Archives from the Library of Congress, among others.
You can dine with family and friends at many local Latin American restaurants and bakeries. In terms of art, the Museum of Fine Arts has an extensive collection of Hispanic/Latin American artwork. 
On Oct. 2 at The Heritage Society, there will be an event celebrating National Hispanic Heritage Month, which will take place from 4-6 p.m. at the Connally Plaza downtown Houston.  An expansive mural is on display, celebrating history and culture in the 20th century Hispanic Americans.  An open-air history tour bus will be available for tours to Hispanic neighborhoods starting at 7 p.m.
"I represent the Hispanic community. If I don't celebrate the month, then I will be letting down my people," sophomore Jonathan Perez said.