Future Farmers of America (FFA) organization builds leaders beyond agriculture
Future Farmers of America (FFA) is a student-led national organization that inspires the next generation of leaders. While the focus of the program is on agriculture-related activities, the organization gives young people the tools to succeed in whatever career path they may choose.
"I have been in FFA for all four years of high school, and I have learned so many skills like public speaking and leadership skills. I grew up around agriculture, and I knew the minute I entered high school that I wanted to be an FFA member," senior Laura Reaves said.
Students enter the organization by enrolling in an agriculture-related course at their school such as Agriculture, Food and Natural Resources, Animal Management, or Equine Science, among others, and paying an annual fee of 35 dollars. FFA's educational program teaches students through three main components (Classroom/Laboratory, Supervised Agricultural Experience, and Leadership/Personal Growth). 
For students who are interested, they have the option of raising livestock of their choice such as goats, rabbits, cows, or swine.
Alan Villarreal, an FFA student, has raised several animals during his time in the program and currently serves as the inaugural male President of Klein Cain's FFA chapter.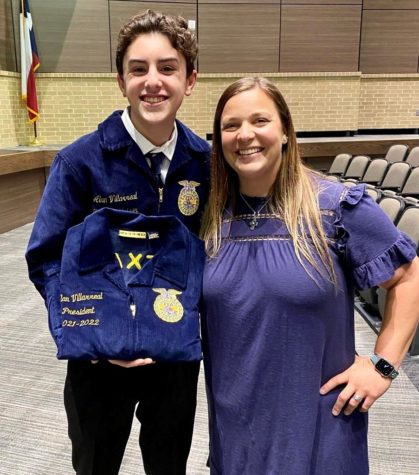 "FFA has impacted me in so many ways. It has changed me as a person and has taught me so many lifelong skills and lessons that I will always cherish and use." Villarreal said.
Students have the opportunity to compete in local, state, and national competitions in a variety of areas including Agricultural Sales, Agronomy, Public Speaking, Livestock Showing, and Floriculture.
"I like the freedom and ability to go in different agricultural pathways. FFA has set me on a good path for whatever career in the industry I may choose," senior Ryan Trautwein said.
These competitions are seasonal and vary by category. Students can win scholarships, trophies, and national recognition in these competitions. FFA is an organization where students can learn essential life skills such as problem-solving, accountability, and communication skills.
By being a part of FFA, students are given the resources and opportunities to develop and grow as academic and agricultural leaders. To join the organization, talk with your school counselor about taking an agricultural class which is right for you and the best pathway for you to pursue in the program.
 "To people that are considering joining, I would tell them that FFA offers so many opportunities besides raising livestock, and you make so many new friends and learn so much throughout the program. It is always worth trying out something new rather than never trying and missing out on something that you may enjoy being a part of," Villarreal said.