How J.J Watt Impacted Houston on and off the field
Watt has impacted Houston on the field by being one of the best defensive linemen ever to play the game, but Watt is known for more than just his work on the field. 
In 2011, Watt was drafted in the 11th overall pick.; Despite his lucrative career today, Watt was not a fan favorite when he got drafted. Watt was booed when he got drafted, but those boos turned into cheers after his first  year in the league. 
Watt is a three-time defensive player of the year in 2012, 2014, and 2015. Watt has also been to the pro bowl five times between  2012 and 2015 and there again in 2018, named to the all pro 1st team 5 times in 2012-2015 and 2018, and was named the Walter Payton man of the year in 2017.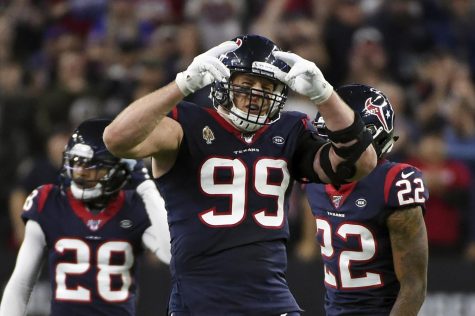 Watt has recorded 101 sacks, 172 tackles for losses, 16 fumble recoveries, 61 passes defended, 531 total tackles and 2 interceptions. Watt has even recorded 3 touchdown catches in 2014 and 2015. 
J.J Watt has done so much for Houston, but one of his most renowned  accomplishments has been helping families after Hurricane Harvey. 
During 2020, Watt was in the talks of leaving the Texans for a team that could compete for a Super Bowl in the next few years. The Texans won't be contender for a while because there is a lot of drama down in Houston right now. 
 On March 21 of this year Watt signed with the Arizona Cardinals for a two-year contract and 31 million dollars and will be joining his former teammate DeAndre Hopkins. Hopkins was traded last year by the Texans on March 22, 2020. J.J Watt will go down as one of the best players to ever put on a Houston Texans jersey.