Freshman Surfer Tames Waves of Life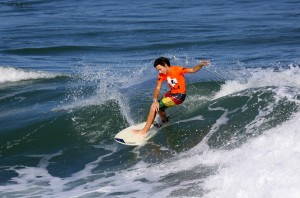 Everything is in his control. For a second it seems as if gravity were nonexistent. That is the best part about surfing. It is the one place where everything makes sense. As he races towards the waves he watches them near and prepares to be engulfed by the salty sea. He knows exactly what to do and how to move his body. The only thing on his mind is victory.Freshman Tyler Bacquet was raised in Lompoc, California and grew to love it. Surrounded by beaches, Bacquet enjoyed the water, and the lifestyle he was able to live.
"I had really good friends and I was really plugged into my church," Bacquet said. "I had this group of guys that I went surfing with pretty much every day."
With the beach a few miles from his home, Bacquet took up surfing at a young age and began his surfing career by entering competitions.
"In California I was competing and I would travel along the coast and work with the Western Surfing Association," he said. "The best I got was third in a competition against kids who were almost professionals. I finished off the year as 11th place out of 80 people. It was my rookie year, so I was pretty proud of myself."
Along with his surfing career, Bacquet has a personality that radiates and seems to get everyone's attention according to his friend, junior Danna Ceron.
"He's the life of our lunch table," Ceron said. "He made everyone at our table love him. I think he's going to adjust and be okay."
As the wave nears he turns to enter its watery threshes but miscalculates and fights to keep his balance on the board. The wave crashes around him, leaving those watching in wonder of what is to come next.
In the summer of 2011, Bacquet learned he would be leaving his home because of his family's economic struggles.
"I moved here because my dad was unemployed for a while," Bacquet said. "My uncle offered him a job in Texas to start a company. It was always an option for us to move to Texas, but my dad never took it because we loved California."
Being so connected to his life in California made the move a major struggle for Bacquet.
"It was hard hearing about it," he said. "It is still hard. This place is very different from California and the people are different too. It's almost a whole new culture."
Leaving California meant both a transition to Texas as well as getting used to the way of life.
"I don't understand 'y'all'" he said. "I laugh when my teachers say it. I will never say it. It doesn't sound right. Some people even have Texan accents. California was very beach oriented and Texas definitely isn't the same. Everything is just very different."
Differences according to Bacquet extend to personal preferences among his peers which has made it difficult for Bacquet to find a group of friends in Texas.
"I think making friends has been a harder aspect for him," Bacquet's mother Kassi Bacquet said. "Everyone he has talked about seems nice and I'm thankful for that but I still think he needs to meet a group of people he really gets along with. It may be just because he doesn't have as much in common as the kids here because there aren't many surfers."
Bacquet said he did not seem to have a  rough time meeting new people.
"I'm super cool and chill with everyone but I'm not very close to anyone," he said. "Everything is different and everyone has different interests."
The crowd anxiously searches for him. As the water dissipates, he emerges steady as ever. Bacquet is soon back on the board and back in control.
The transition was rough for Bacquet but after living in Texas for a while he is beginning to adjust to the changes.
"You've got to be prepared for anything life throws at you," he said. "Just cruise it and have a good attitude. All of this has made me a lot more positive about things."
Although the beach is no longer in his backyard, Bacquet said he still surfs whenever he can.
"My dad and I go to the beach all the time," he said. "Whenever we get the opportunity, we go. I started a blog to document my surfing here in Texas."
Through surfing competitions here in Texas, Bacquet has also found friendship.
"I made a really good friend here through the surfing competitions I'm doing," he said. "He lives all the way in South Padre but I can call him all the time and talk to him."
No matter what obstacles he may face, Bacquet continues to stay strong in his journey and holds on to the people in his life.
"At the end of the day I'm thankful to have my family," he said. "My family is really supportive. If I ever feel like I'm having a bad day, I can also call up my friends in California. We're still really close."
Bacquet finishes off the race as the crowds roars with enthusiasm. He holds his board by his side and looks at the crowd feeling proud of his accomplishments.