Beyond the desk
Inside look on average day of school secretaries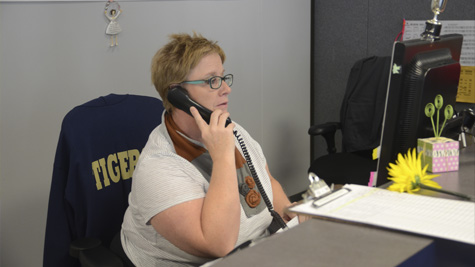 Textbooks, substitutes, attendances, even sports are all things secretaries deal with. Secretaries are in most offices, but go unnoticed by the students they see every day. However, without them, the work they do would be missed.
Textbook and substitute secretary, Anna Rugila said she enjoys planning, management and logistics.
"I love how I know most people," Rugila said. "Teachers, staff and students come to me when they have questions. I like not being hidden away."
Disciplinary and assistant principal secretary, Donna Schultz said that without secretaries, the smoothness that schools are known for, would disappear.
"I look forward to coming to work," Schultz said. "I enter discipline referrals, monitor the students and play mom. And although I'm hard on some of the students, I love how this entire building is a family."
Every day is different, according to associate principal secretary Annette Bullock. Bullock is responsible for entering discipline referrals, parking passes with faculty and students and ordering supplies, Bullock moved to the area one year ago, and said that although her job at her old school shared similarities with this one, she interacts more with the students here.
"Before I moved here, I worked in an office doing about the same thing that I do now, only I didn't interact with the kids," Bullock said. "Now I get to work with them and its fun hearing what the students have to say."
Office aide senior Tyler Spiller said that although he does not know much about secretaries in general, he appreciates what secretaries do.
"School without secretaries would probably be difficult," Spiller said. "We'd be unorganized and probably wouldn't get our schedules, tests, textbooks and everything else."