When there is a Will there is a play
Student writes and directs his one act play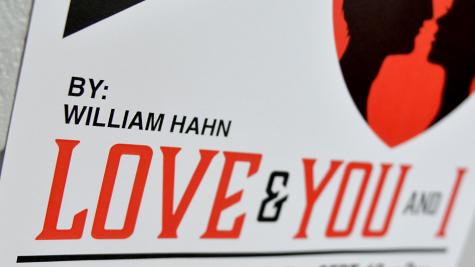 Junior William Hahn is used to the bright lights of the stage, but he experienced a whole new kind of spotlight as the writer and director the school's most recent play "Love and You and I."
"It was really different having to tell my peers what to do," Hahn said. "Everyone was super cooperative."
Hahn said the story of "Love and You and I" was inspired by the film "When Harry met Sally."
"It is one of my favorite movies," Hahn said. "I wanted my play to have a Harry and Sally-esque feel to it."
"Love and You and I" is not the first play Hahn has written, but this was the first he chose to submit for. His decision paid off when theater director Robin Welchwood decided to let students have a seat in the director's chair.
"I asked the students if anyone was interested in directing a play," Welchwood said. "But Will didn't fine one he liked, so I suggested he write his own play, and he did."
According to Hahn, the experience of writing and directing a play was refreshing.
"I had control over pretty much everything," Hahn said. "It was really cool getting to make the big decisions."
Hahn said the writers must be able to evoke relatable truths and emotions for the viewer to truly connect with the piece.
"You have to understand how people think and feel," Hahn said. "Because if you have them interact like robots, it's really unrealistic and boring."
Hahn said he was drawn to films and acting at a young age, and has been fascinated ever since.
"As a kid my parents explained that the characters in movies were just actors," Hahn said. "And I just loved the whole concept of portraying someone else."
Hahn said he has a very optimistic view for his future and that through hard work he will achieve his dream. He does not plan to give up on his acting career and said he will take on whatever acting job he may encounter.
"I think that it is really unfair that people ask actors what their fallback is," Hahn said. "But if you tell someone that you plan to study law or medicine they never ask what your fallback is."
Hahn plans to pursue his acting career and although Hahn loves to write plays he has a different path in mind.
"I plan to major in acting," Hahn said. "Writing was fun, but my heart is set on acting."
According to Welchwood, she believes that Hahn has the talent and determination to do great things.
"Will is one of those people who no matter what he chooses to do, he is going to be great at it," Welchwood said. "I can't wait to see what he has in store."
According to Hahn, failure is not an option. He plans to work hard and he hopes to one day get the opportunity to perform in Hollywood movies.
"I would love to act in films," Hahn said. "And if I want to make it, I have to work for it."