American Dream
Sophomore hopes to be American Ninja Warrior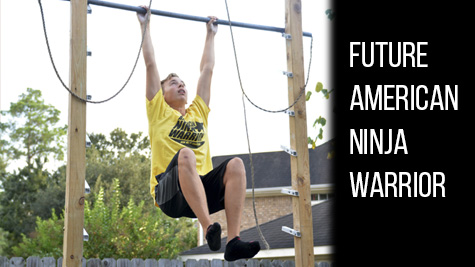 Sitting in front of the TV, sophomore Max Maisonneuve stares fixedly at the screen as he watches American Ninja Warrior. The men swinging and pulling themselves up on challenging obstacles entrances him. It's in this moment that Max falls in love with the show and feels so inspired that he knows he has to start training right away.
American Ninja Warrior is a sports entertainment competition in which contestants go through obstacle courses that increase in difficulty. The goal is to complete the course without falling into the water below with the fastest time.
"It's the ultimate test of physical ability," Maisonneuve said. "I've been training for about a year, it's a really fun way to get fit."
The show started on Dec. 12, 2009 in Los Angeles and only two people, Kazuhiko Akiyama and Makoto Nagano, completed all four stages of the competition. Maisonneuve said he hopes to compete in season 13 in 2021.
"It's so cool that Max is training for ANW because he's so young," sophomore Julia Hymel said. "Most people are in regular sports so it makes him different."
ANW requires competitors to be 21 years old and a legal resident of the United States. The course consists of 4 stages and 23 obstacles.
"ANW requires upper body strength," Max said. "As well as agility and mental focus."
Max's father, Joe Maisonneuve trains with him for moral support. According to Joe, training helps Max stay in shape and promotes a healthy lifestyle.
"I help him build obstacles in our garage," Joe said. "We encourage each other to keep training."
Another requirement to enter ANW contestants are required to submit a video to be considered for the show. Videos have to be five to eight minutes long and feature the contestant is athletic ability, background story and personality.
"Max has dedication, persistence and passion," Joe said. "He doesn't give up, he's always thinking of new things. He knows what he can do and he keeps going for it."
Competitors that complete all stages in the fastest time achieve "Total Victory" and receive $500,000.
"To anyone who wants to try, go for it," Max said. "Everyone has to start somewhere and why not start now?"