The elusive thirty-six
Senior receives perfect score on ACT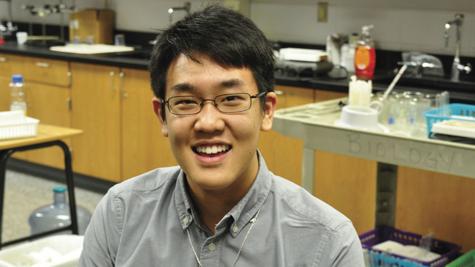 Senior David Li knew that a 36 was a perfect score on the American College Test (ACT), he just did not know what it was doing written underneath his name. With numb fingers, he logged back out and back into his account. Sure enough, the number remained, David Li, 36.
The ACT is a test used for college admissions and consists of a writing test and four multiple-choice sections, covering English, mathematics, science and writing. Li took the test for the first, and only, time in April when he got the perfect score; a feat only 0.076 percent of test takers achieved, according to PrepScholars, a business dedicated to helping students ace the SAT.
"A perfect score was nowhere on my mind," Li said. "After I found out, I had to run downstairs to tell my parents."
Li said he originally prepared for the SAT through Testmasters, a standardized testing tutoring service, and by completing practice tests, but decided to try the ACT when he was disappointed with his SAT scores.
"I wasn't surprised when he told me," senior Eshaan Patel said. "I've known David for years, and I know how much he studied for the SAT. The ACT measures knowledge over the same things."
Li is currently ranked No. 1 in his class with a GPA of 5.76.
"Most people forget that, besides those facts, he's still like every one of us," senior Sydney Miranda said. "What makes him stand out is that he is so focused, and is so driven to succeed in all the things he sets his mind on."
Aside from academics, Li focuses on his music. He won first place in state in Texas Music Teachers Association piano performance competitions freshmen through junior years, for concerto for the first two years, then solo for his last.
"He certainly has a serious dedication," English teacher Kim Abshire said. "I think it may be his music that helps him to succeed. Music, particularly classical music, has been linked by numerous studies to certain parts of the brain. That stands out among other high-achieving students. I think he'll get into whatever school he wants."
According to Li, the score gave him the confidence to apply to his dream school, Yale, although he holds some higher aspirations.
"If my dream of becoming an NBA [National Basketball Association] All-Star or Batman doesn't work out, I'll pursue a career in medicine," Li said. "My fields of interests include neuroscience and radiology."