Varsity Men's Soccer makes history
The men's varsity soccer team played Klein at a home game on Jan. 29. The outcome of every home game in the school's history against Klein has resulted in a loss. Not this time. Captain Aaron Santellan started the game with a goal against Klein, putting the Tigers in the lead with a score of 1-0.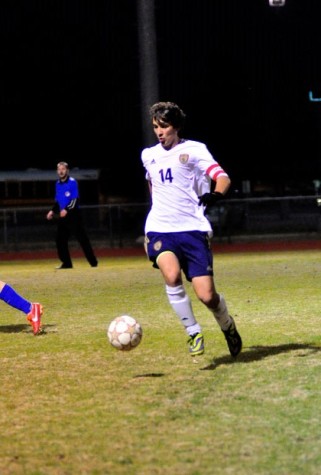 "One of the best feelings I've felt as a soccer player was scoring against Klein," he said.
However, the referees took the goal away from Santellan, for an alleged foul, putting the Tigers back at 0-0.
"I was extremely angry and disappointed that we had worked so hard, just to have it taken away," Santellan said. "But we were able to get the lead back again."
The Tigers took a free kick which the goalkeeper saved for a corner kick. Sophomore Isreal Tristan scored from that resulting corner, once again putting the Tigers back in the lead.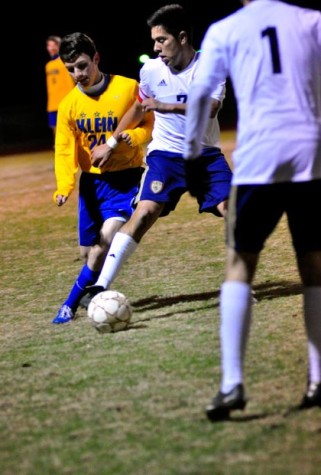 "Being the one to score the winning goal felt incredible," he said. "I was so happy to be on the first Klein Collins varsity soccer team to beat Klein on our home turf. I think we can beat them, and I'm ready to play them again."
The Tigers defeated Klein once, at one of Klein's home games, in 2009. Men's soccer coach, Darrell Hamlett was ecstatic with the win then, but was even more thrilled to have won a home game this time.
"Beating Klein was a thrilling experience, and a complete team effort," He said. "I think it was one of the best games they've ever played, and I know they worked extremely hard to make it happen. It's a rewarding feeling to have beaten Klein at a home game for the first time in history."
Not only did the Tigers end the game with a win, but goalkeeper Raul Camarena did not let Klein score one goal against the Tigers.
"It was amazing to beat Klein with a shut out," Camarena said. "I'm proud of my team and I for not letting them score on us, and I think we're ready to beat them once more."
Come out and watch the Tigers play Klein again on Friday, Feb. 28 at 7 p.m. at Klein Memorial Stadium.