For the senior cast and crew, "Moon over Buffalo" is their last fall show, but for all players it's a bittersweet feeling. 
"It feels very final, but I don't feel sad because there's so much more to look forward to," senior Roman Losa said, "My favorite part of 'Moon over Buffalo' was when I (act) exponentially drunker as act II went on which led to a very chaotic last half. My love for acting in high school has led me to want to pursue it in college. I'm excited to pursue this field and I hope to make it my life-long passion. My advice for any aspiring actors or actresses would be to just do everything that theatre entails. Even if it isn't acting, experiencing what happens behind the scenes allows you to truly appreciate the finer details."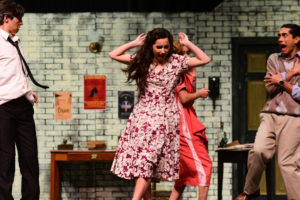 A lot of actors find themselves in the characters they portray. Sometimes valuable lessons are learned within the characters they play. At times activities such as theater helps students look for the future for what they wish to pursue after graduation. 
"I feel like it was a very fun way to end my senior year," senior Isaiah Auguste said. "I had a really great role in it. I had a great experience, great time, and overall it was just a lot of fun. 'Paul' is my favorite role I've played because there's a lot I can do with him and he is just fun to play. There's a lot of freedom in his character. In the future I'm excited to pursue my dream of acting. I'm excited to move to New York or California and start finding work. My advice for aspiring actors or actresses is to do everything that's going to get you experience. Take every opportunity to improve your craft and become as good as you possibly can. Once you're that good and genuinely have talent you can go out there and show the world what you have. Take the steps to pursue your dreams. Take action."
"Moon over Buffalo" is unlike any other production seen. This form of show allows students to hone their craft and learn as much as they can about themselves and the characters that they are playing. 
"To be honest it didn't quite hit me until I was doing my senior speech during show circle and most of us didn't have anything prepared, but we all managed to get our point across and have our last starting speech with our friends and family, so it was difficult but loved," senior David Crocker said. "In the future I'm planning to go to college, make my own living, and really just experience adulthood. I'm going to try engineering from my experiences doing tech and set and everything that got me interested in actually designing. I'm glad to be able to apply it from and with theatre as my passion and hobby. I do want to do side things like a local community theatre or some once in a lifetime gigs every now and again, but as far as my actual career I'm going into engineering."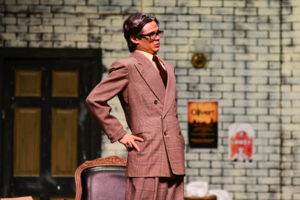 Past productions are what catch many actors' attention and interest in the company. This allows thespians an opportunity to take a chance and see what it is like to be on stage. 
"This is not my first role in a fall play," junior Liberty Quinton said. "My first role in the fall play was Mrs. Peacock last year in the play 'Clue.' It was very fun, I loved it. I've enjoyed a lot of the shows I've been in. If I had to choose one that I would want to go back to and play again, definitely 'Sister Act' as Mary Lazarus because that was just a fun role to play. With a wonderful company and just a wonderful environment overall. My favorite play we've ever produced would probably have to be 'Farce of Habit,' which was a funny one. That's what really got me going into theatre."
Transitions can be scary and exhilarating all at once. When you focus on yourself and listen to your heart the outcome is always worth it.
"This is my first role in a fall play," sophomore Alexia Alla said, " It was very exciting and fun. Very scary for being my first role, but I think it worked out pretty well. I'm looking forward to 'Mean Girls' 100%. I love Mean Girls and I've watched it like 30 times and every time I just love it more and more and now the fact that we're going to do it as a musical. My advice for aspiring actors or actresses is to be yourself."
Players need to listen to their heart and do what pleases them and makes them feel alive. Hard work and time well spent pays off in the long run when the patience and understanding of the art is alive inside.
"My first role in a fall play was Jenna my freshman year and it was definitely a big learning experience because jumping from doing middle school to high school is super different and it was super fun," junior Ryan Armenta said. My favorite role I've played at Klein Collins is probably my most recent one, so Charlotte. It was definitely the hardest for me and I kind of struggled in the beginning, but I think once I got the hang of it I really liked it a lot and I really liked the challenge. I'm really looking forward to the UIL show this year and the musical. 'Mean Girls' is so iconic, so I'm really excited to see what we can do for that and what we'll pull off. Advice I'd like to give is just because you don't get a role you want don't stop trying because eventually the hard work you go through will pay off through your perseverance. Getting roles isn't always based on your talent, because looks have a lot to play into it especially with film acting and stuff like that, so honestly just keep trying because the day will come when you get to be on stage."