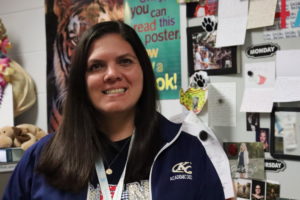 Laurie Marek has taught at Klein Collins for over 20 years, so it is no surprise to know that she has taught some of Klein Collins' other teachers. She has taught classes such as Advanced Placement Literature, Academic Decathlon, AP seminar, and AP research while being Head of the Literature Department. Outside of school, she volunteers with the National Charity League, loves to float in the pool, read books, and enjoys eating food with friends and family.
Marek is passionate about teaching and dedicated to her students which explains why many of her students have reached out to her after graduation. She leads her classroom with a goal to end everyday as a good day.
"I think a good day at school is one where the kids are engaged and enjoying learning. And they have that aha moment where they start to excel and move towards mastery," Marek said. "I think there's laughter when there's a good day and relationships being built between students and teachers, and even students amongst themselves."
Marek has done many things throughout her years at Klein Collins. She's been nominated teacher of the year by her students' multiple times. She is raising her two daughters to become strong, competent, and intelligent young women. One accomplishment this year that she is proud of is her use of the new Clear Touch Panels and integrating it into the classroom along with wearing her boot.
"I've allowed my students to utilize the panel. And so, we are embracing recent technology without fear. And that gives me a sense of pride," Marek said. "And I am proud of myself for wearing my boot for my Achilles and that makes me happy. I have extreme pride that I'm now in the classroom and we've embraced technology and have been pretty successful with it."
Her favorite thing about being a teacher is the impact she has on her students. She gets to teach them valuable lessons that they will use in their daily lives. Her classroom is so much more than just memorizing the content but understanding and learning to analyze it on a deeper level.
"Just to be able to help the youth of tomorrow grow in their skill set and learn to be better, productive citizens is the best part of my job. It is learning how to analyze and learning how to think deeply and learning how to see the universal human experience and how we have all gone through different conflicts no matter what time period and to learn from one another."
As a cheerleader, Marek's biggest advice to her students is to always leave with kindness and to know that it is okay to fail because she will do all she needs to help you move forward.
"Always leave with kindness. And know that your grades and your GPA does not define you. It will not be on your tombstone. People will remember you for your acts of kindness rather than the score that you see on any exam. Just do your personal best and be kind to others."