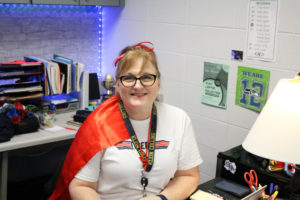 Being young and having your whole life ahead, it's easy to think of career ideas that either don't make sense, or do make sense but aren't very practical. 
"My first job that I ever wanted to do was be a Dallas Cowboys cheerleader because I liked their boots and their hats and they were just the best of the best at the time," Algebra II teacher Tamera Hall said, who's also an advisor on Student Council.
There's a moment when something clicks in the brain and there's an idea of what you may want to do with your life.
"The teachers that inspired me, made learning fun," Hall said. "They were creative and they were funny and they had ways that it was always so cool that they could explain something and just make it so clear. And when I really started, I started with a desire to be an elementary school teacher. And I loved being able to decorate the room and all the different units that you could do and decorate your entire room for that."
Those who want to be teachers must make up their mind on what grade level to teach. 
"I wanted to be an elementary teacher because that was the age I had the teacher that inspired me," Hall said.
Continuously doing the same thing for years can get boring. It's good to have a job that keeps the spark alive. There aren't really jobs where you constantly get a fresh start, but being a teacher, every year is new. New students, new routine, being able to fix things from the year prior. It's a whole new experience.
"I have been teaching for 28 years and have been at Klein Collins for 3 years," Hall said. "I think I realized I made a good decision being a teacher right away. I had jobs when I was younger and in college that when I would wake up in the morning or I had to go after classes, I got a pit in my stomach. I didn't like doing it. But teaching has always been that job that when I wake up like yeah, I'm tired. I'm not a morning person, but it's never because I don't want to go to work. It's never because I don't like my job. I like my job. I like what I do. And it's always new each year."