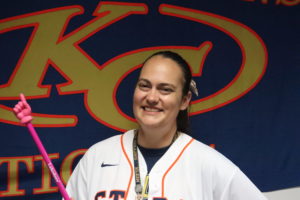 Brittany Henry is a fierce, loyal, and inspiring teacher who has been in the Klein district for 13 years. Although teaching wasn't her first choice or career, she has the heart for it.
"When I graduated college, my first job outside of school was a PITCHF/x tracker for the Texas Rangers in Arlington," Henry said. "I did this for four seasons, four years. I was the little pitch box that you see when you watch a baseball game. The graphic that comes up and shows the location and speed. They were just on the brink of all this new development and that was me. I could always say I was the little pitch box. Teaching was not my first career, but my parents, my grandparents, and uncles are all educators so I believe it's kind of in the genes at this point, too and having that love for teaching."
Inspiration strikes in the most unexpected places and ways. Sometimes your calling can be right in front of you.
"My mom and dad are my inspiration for becoming a teacher," Henry said. "My mom was an elementary teacher in Klein for 34 years; she's retired now. She taught elementary at Benfer and then she finished out at Kleb as a middle school social studies teacher. My dad is retired as well from Klein. He was a coach at Klein high school for 34 years and 3 of those years he also moved to Kingwood, but went back to Klein. My parents are a huge inspiration with education. I never thought in a million years I would become a teacher. I always said as a kid 'I'm never going to become a teacher,' because I see how hard and stressful it is sometimes but they're my inspiration."
More than inspiration appears in unexpected ways. Special bonds and becoming a mentor is something you never see coming.
"At the moment, after a hard day, seeing former students cheers me up. Anyone that I had last year or anybody involved in the past. Just seeing them if I had a bad period or a bad class. Seeing what I refer to as my babies. Seeing you guys always cheers me up." 
Most people have a process for preparing themselves for a long day. Like Henry, that includes listening to her favorite music.  
"There are so many songs to get me in the mindset for teaching. We could talk about the eras, Taylor Swift, Metallica, country, maybe some chill smooth vibes off of spotify. There's a lot of inspiration, just depending on the day. I'm very musically inclined. I listen to a lot of stuff. Depending on the mood; depends on the song." 
Just as Henry has a love for music, she has an equal passion for teaching.
"The best thing about being a teacher is just the feeling and what I felt this year, like at the end of the year. You go through the entire year with the kids, with the classes. You get to know them and their personalities and I think the best thing about this year so far was on the first day of school just everybody coming back that I had last year and saying 'Hi' or giving a hug or just doing something. You can tell when you have made an impact and that's the best feeling to me"